PURE MINERAL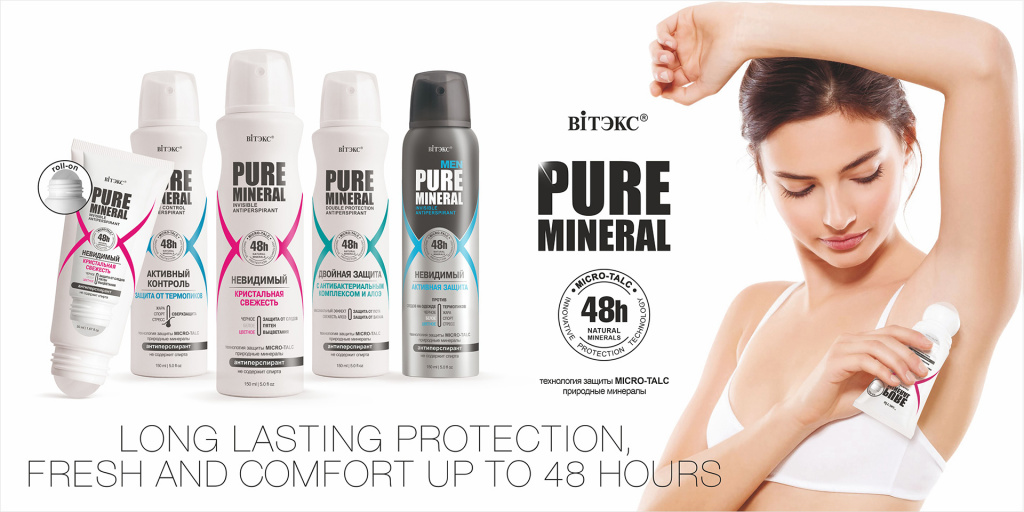 ANTI-PERSONAL DEODORANTS
MICRO-TALC protection technology
natural minerals
LONG LASTING PROTECTION, FRESH AND COMFORT UP TO 48 HOURS
PURE MINERAL ANTI-PERSONAL ADVANTAGES
1. "SMART" TECHNOLOGY MICRO-TALC, first * developed by VITEX, has combined natural minerals and caring components in highly effective formulas.
2. UNIQUE MINERALS have powerful absorbent properties and help providing unrivaled protection against sweat and unpleasant odors for long-lasting dryness and comfort.
3. LONG-LASTING PROTECTION from sweat and undesirable odor up to 48 HOURS, including in conditions of increased loads and thermal peaks: during heat, active sports and in stressful situations.
4. Special formulas against yellow and white stains on clothes, as well as traces of fading.
5. Additional highly effective caring components: freshness microcapsules, natural aloe gel, anti-stress active ingredients, caring complex, antibacterial complex.
6.0% ALCOHOL
* In the range of CJSC "VITEX"
Products line PURE MINERAL