Pharmway SULSENA Anti-dandruff paste 1%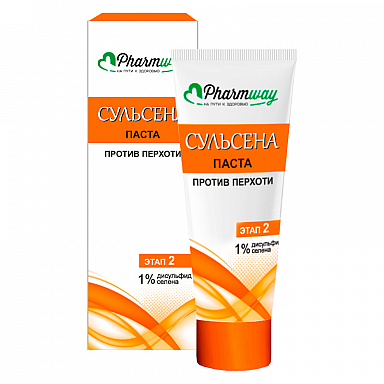 contains 1% selenium disulfide

THE SECOND STAGE OF COMPREHENSIVE CARE AGAINST DANDRUFF
Balanced formula of paste components:
- has an active anti-dandruff effect;
- effectively combats the causes of dandruff;
- inhibits the growth of yeast without disturbing the microflora of the epidermis;
- exfoliates dead cells, minimizing the reappearance of "white flakes";
- has a calming effect on the scalp;
- normalizes excess sebum secretion;
- prevents destructive processes in the hair follicles.
Result:
- reducing the appearance of dandruff
- normalization of the sebaceous glands
- elimination of itching associated with dandruff and seborrhea
- restoration of the scalp microbiome
- strengthening the barrier functions of the epidermis
Directions: wash your hair with shampoo, then massage the paste thoroughly into the scalp at the hair roots, soak for 10-15 minutes, rinse with warm water. To enhance the effect, it is recommended to use it together with an anti-dandruff sulsen shampoo.
Use 2 times a week for 4-6 weeks. Repeat the course as needed. Has a pleasant fresh scent.
Brend: Vitex
Volume: 75 ml
Barcode: 4810153037602
Composition: Aqua (Water), Cetearyl Alcohol, Polysorbate-60, PEG-100 Stearate, Ceteareth-25, Cetrimonium Chloride, Selenium Sulfide, Glycerin, Cyclopentasiloxane, Cyclohexasiloxane, PEG-12 Dimethicone, Ceteareth-25, Parfum (Fragrance), Phenoxyethanol, Methylparaben, Ethylparaben, Propylparaben, Salicylic Acid, Sodium Hydroxide, Benzyl Alcohol, Methylchloroisothiazolinone, Methylisothiazolinone, Linalool
Buy