Sun-protective CREAM SPF 15 ECO GREEN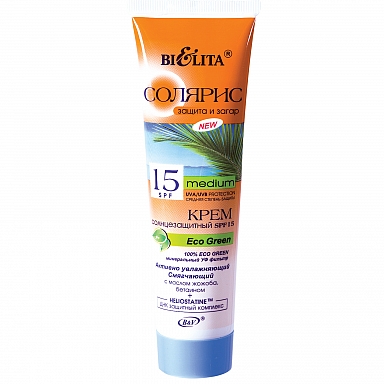 UVA/UVB PROCTECTION — HIGH PROTECTION LEVEL FOR LIGHT SKIN
Actively moisturizing and soothing with jojoba oil, betaine,
Heliostatin ™ - DNA-protective complex
It is created in accordance with the strictest European safety standards on the basis of a mineral pigment — zinc oxide certified according to ecological standard which provides skin protection against UVA and UVB insolation. Heliostatin ™, oil jojoba protect from premature skin cell ageing, nourish and regenerate skin. It is recommended for protection of light tanned skin as well as at the first dark skin insolation.
Brend: Belita
Volume: 100 ml
Buy