HYALURONIC ACID FACIAL SERUM MIX for machine treatments 30+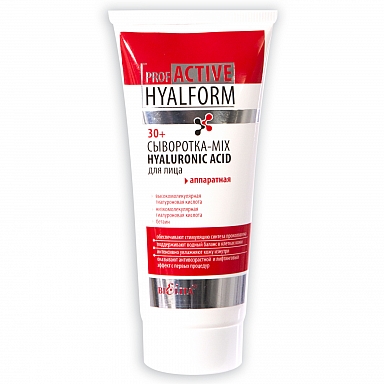 high-molecular hyaluronic acid

low-molecular hyaluronic acid, betaine

●promotes procollagen synthesis

●maintains the water balance in skin cells

●provides a lift effect from the first treatments on

A revolutionary intensive-action moisturizing system for instant and prolonged skin rehydration. Stimulates cell and intercellular metabolism, and skin regeneration, reduces the destructive effect of stress and environmental factors, and restores complexion.
The high-performance complex based on low — and high-molecular hyaluronic acid with betaine possesses the perfect hydrating effect, providing double moisturizing action, both internally and externally. Saturates the skin with moisture, making it more resilient and elastic, improving its microrelief, preventing wrinkles and promoting synthesis of new collagen and elastin fibers. Reinforces the epidermal barrier, improving the skin's capacity to retain moisture and protective properties.

Brend: Belita
Volume: 200 ml
Barcode: 4810151019488
Buy