Children's Water-Resistant Sun-Screening Mousse Cream SPF 50 Reliable Protection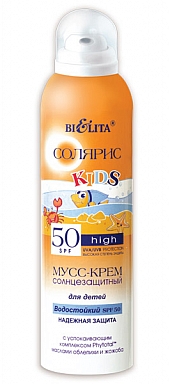 The high-SPF sunscreen mousse provides reliable protection for your kid's tender skin from intense sun exposure, preventing sunburn. Enriched with the Phytotal™ soothing complex, sea buckthorn and jojoba oils; softens and soothes kids' thin and sensitive skin. The product has a waterproof effect, which allows playing safely near water.
Easy to apply to your kid's skin thanks to an airy texture.

Brend: Belita
Volume: 150 ml
Buy