Foot and Heel Cream-Compress with Urea for Cracks and Corns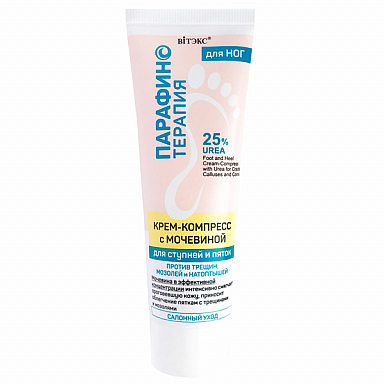 25% of UREA
AGAINST CRACKS AND CORNS
INDICATIONS FOR USE:
· Cracks, dry corns and corns
· Dry, rough, rough skin
· Effect of "heavy legs"
· Need to protect the skin from the adverse effects of environmental factors
· Prevention of dryness and cracks
HEALING COMPONENTS
Urea in an effective concentration of 25% actively softens corns, helping to quickly and easily remove rough skin. Intensively moisturizes and softens, reduces discomfort from cracks and calluses. It disinfects the skin, accelerates the regeneration processes, providing quick healing of cracks, giving the skin softness, smoothness and tenderness.
Liquid paraffin is a highly effective component that is used in professional beauty salons for foot skin care. Thanks to its unique properties, it provides fast visible results in order to return the skin an excellent smoothness, softness and well-groomed appearance for a long time. Liquid paraffin creates a weightless occlusive breathable film that prevents overdrying, and the skin remains moisturized, nourished, soft and gentle for a long time.
Tea tree oil has an antibacterial effect, tones, accelerates the healing of microcracks, and helps to reduce sweating.
Yarrow (extract) has antiseptic, antibacterial and anti-inflammatory properties, heals and strengthens nails.
Sage (extract) has a strengthening and calming effect, activates the elimination of toxins from cells, and prevents the onset of age-related skin changes.
The "smart" component of Frescolat plus in combination with peppermint extract refreshes, tones, deodorizes the skin of the feet, relieves the feeling of heaviness and tiredness in the legs.
The result after 1 procedure: noticeably softer and moisturized skin, a feeling of comfort and lightness.
The result with regular use: smooth, delicate, healthy feet and heels without cracks and corns.
Directions:
apply in a dense layer onto clean, dry skin, paying particular attention to areas with cracks, dry calluses and especially roughened skin. If necessary, wrap the feet with film and put on cotton socks. After 15-20 minutes, massage the excess until completely absorbed. Can be used daily. For best results, 2-3 times a week before applying the cream compress, it is recommended to use a salt bath concentrate.
Brend: Vitex
Volume: 75 ml
Barcode: 4810153032690
Composition: Aqua (Water), Urea, Cetearyl Alcohol, Polysorbate-60, PEG-100 Stearate, Ceteareth-25, Propylene Glycol, PPG-15 Stearyl Ether, Paraffinum Liquidum (Mineral Oil), Lanolin, Salvia Officinalis (Sage) Extract, Mentha Piperita (Peppermint) Extract, Achillea Millefolium (Yarrow) Extract, Stearic Acid, Petrolatum (White Petrolatum), Phenoxyethanol, Methylparaben, Ethylparaben, Propylparaben, Parfum (Fragrance), Lactic Acid, Menthol, Menthyl Lactate, 2-Bromo-2-Nitropropane-1,3-Diol, Melaleuca Alternifolia (Tea Tree) Leaf Oil


Buy