SOS Repairing Nail Elixir 9 in 1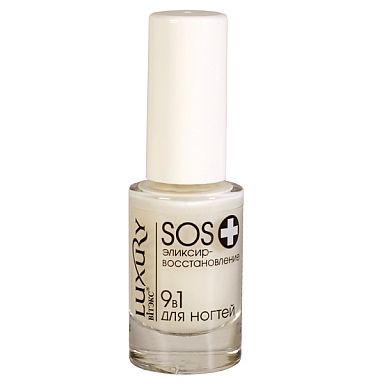 SOS Repairing Nail Elixir is a wonderful program, enriched with special active components, which make nails stronger, smooth, bright and healthy for a long time.

Peptide of keratin makes your mails stronger and protects against brittleness.

Elixir helps to achieve following results:


Strength: deep nail repair from the base to tips makes them stronger day by day.
Growth: helps the nails grow healthy and strong.
Strengthening: makes nail plates harder and firmer.
Protection: protects against nail peeling.
Smoothness: instantly removes nail roughness and makes nails smooth.
Moisturizing: restores natural moisturizing of nails and keep their beauty.
Brightness: enhances natural nail brightness.
Nourishing: argan and baobab oils nourish and restore nail structure.
Color leveling of nail plates.
Directions: evenly apply Elixir into clean nail plates.
Apply 2 layers twice a week for intensive repairing.
As a base apply a layer under nail polish
Buy