SOUFFLE-CARE for face, neck and decollete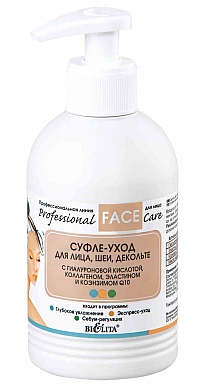 with hyaluronic acid, collagen, elastin and coenzyme Q10

The air soufflé, enriched with moisturizing, toning and lifting components. It is ideal for completing the skin care treatments. It is absorbed quickly without weighing the skin.

Recommendation: Soufflé-care can be used as a standalone product or in combination with serums and/or oils.

It does not contain fragrances.

Brend: Belita
Volume: 300 ml
Buy