Amazing Skin Night Facial Care Cream with Cloudberry Seed Oil & Vitamin C for Age 25+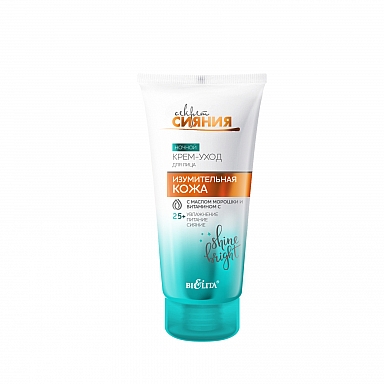 The Amazing Skin Night Facial Cream Care gives your skin a natural glow and provides a feeling of comfort. A complex of active ingredients included in the cream acts on skin on several levels:
intensively moisturizes and nourishes skin during sleep,
provides a glowing and fresh complexion upon waking,
increases cellular energy levels,
fights initial signs of age-related changes.
SymMollient
is an active moisturizer, which retains moisture within skin and maintains natural moisture levels even in the deep layers.
Shea butter
is rich in vitamins and micronutrients, which intensively nourish skin and boost cell activity. Upon awakening, your skin is fresh, revitalized and glowing.
Amazing Skin Cream Care: give your skin true splendor.
Brend: Belita
Volume: 50 ml
Barcode: 4810151023003
Buy