Facial Meso Mask INTENSIVE REJUVENATION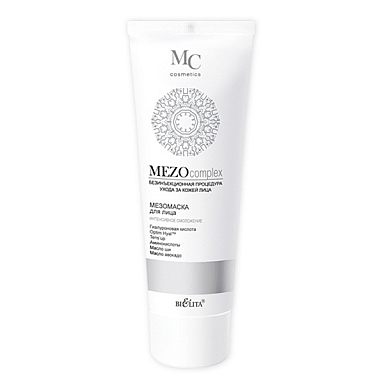 Cleansing and care product that fit any age


Deeply hydrates, nourishes and lifts your skin, smoothes wrinkles, evens your skin tone and improves your complexion, giving your face a fresh and refreshed look.
The ingredient
Optim Hyal™
encourages natural hyaluronic acid synthesis, restores its ideal balance, increases skin hydration, elasticity, tightness and firmness, reduces skin imperfections, and smoothes wrinkles.
Targeted-action hyaluronic acid
penetrates into the deep layers of epidermis, pushing wrinkles out from the inside and providing an effect similar to a mesotherapy salon treatment. Tens'up provides a skin lift and a lasting anti-aging effect by improving collagen synthesis.
An amino acid cocktail
(
taurine, glycine, arginine
) fills skin cells with energy and vitality, promoting cell regeneration.
Shea butter
hydrates and softens your skin, promotes synthesis of natural collagen and improves your complexion.
Avocado oil
superbly nourishes and actively hydrates your skin, accelerating cell regeneration.
To enhance the mask's effect and obtain a stronger effect, you can add the facial mesoserum 40+ or 50+ to the mask. We recommend using the MesoMask for Face once or twice per week.
Brend: Belita
Volume: 100 ml
Buy