CREAM Cocktail Coconut Milk with Coconut Butter Shower Gel Cream-Gel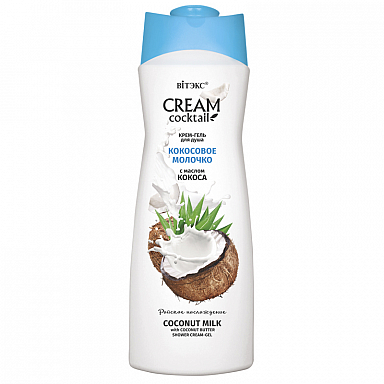 Give your skin a PARADISE COCONUT PLEASURE!
The gentle creamy formula of the shower gel is a delicious cocktail for the skin that simultaneously gently and gently cleanses, while nourishing and moisturizing the skin.
Coconut oil and coconut milk contain a unique combination of beneficial fatty acids (myristic, caprylic, palmitic, lauric), vitamins E, A, C, calcium, iron, phosphorus and other valuable organic compounds. These components have a rejuvenating, moisturizing and nourishing effect, stimulate collagen production, increase skin elasticity and firmness, prevent moisture loss, relieve irritation and flaking.
Light silky foam envelops the skin in a gentle cloud of a cozy, warm aroma, helping to wake up in the morning, and relieve tension and relax in the evening.
Due to its balanced composition, the cream-gel preserves the water-lipid barrier of the skin, does not leave a feeling of tightness and dryness.
Suitable for frequent use.
Brend: Vitex
Volume: 515 ml
Barcode: 4810153038135
Composition:
Aqua (Water), Sodium Laureth Sulfate, Cocamidopropyl Betaine, Cocamide DEA, Sodium Chloride, Sodium Laureth-11 Carboxylate, Laureth-10, PEG-7 Glyceryl Cocoate, Parfum (Fragrance), Sodium Styrene/Acrylates Copolymer, Polyquaternium-7, Disodium EDTA, Benzyl Alcohol, Methylchloroisothiazolinone, Methylisothiazolinone, Glycerin, Cocos Nucifera (Coconut) Water, Citric Acid, Cocos Nucifera (Coconut) Oil, Benzyl Salicylate


Buy