Concentrated Salt Foot Bath with Tea Tree Oil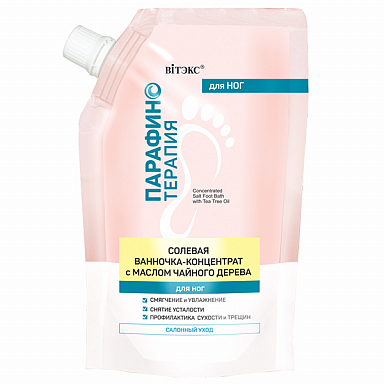 SOFTENING AND MOISTURIZING
FATIGUE RELIEF
PREVENTION OF DRYNESS AND CRACKS

INDICATIONS FOR USE:
· Skin prone to cracking, densification and keratinization
· Dry, rough, rough skin
· Sweating feet
· Effect of "tired legs"
· Preparation for pedicure
· Flaking and brittle nails
· Prevention of dryness and cracks

HEALING COMPONENTS
Tea tree oil has an antibacterial effect, tones, accelerates the healing of microcracks, and helps to reduce sweating.
Liquid paraffin is a highly effective component that is used in professional beauty salons for foot skin care. Thanks to its unique properties, it provides fast visible results in order to return the skin an excellent smoothness, softness and well-groomed appearance for a long time. Liquid paraffin creates a weightless occlusive breathable film that prevents overdrying, and the skin remains moisturized, nourished, soft and gentle for a long time.
The deep sea salt of the Dead Sea nourishes the skin with essential minerals and trace elements, helps strengthen the nail plate, improves blood circulation, and accelerates the elimination of toxins.
SymGuard CD - a multifunctional antimicrobial component - effectively acts against bacteria, healing the skin of the feet.
Sea buckthorn (extract) due to its powerful anti-inflammatory and antioxidant properties protects cells from the harmful effects of the environment, intensively nourishes and moisturizes the skin, softens the cuticle, makes the skin soft and well-groomed.
Ginger (extract) heals and tones the skin, has an antimicrobial effect, stimulates cell regeneration, and helps to normalize sweating.
Eucalyptus and mint (extracts) refresh, tone, deodorize the skin of the feet, relieve the feeling of heaviness and "burning" legs.
Keratin fills microdamages and irregularities of the nail plate, contributing to its restoration and alignment.
The result after 1 procedure: moisturized, soft skin and a pleasant feeling of freshness, lightness, cleanliness.
The result with regular use: noticeably more hydrated and well-groomed skin, reduced sweating of the feet, stronger and healthier nails.
Directions:
Dissolve 50 ml of the concentrate in a bath of warm water. Dip your feet in it for 15-20 minutes, then rinse with water. Perform the procedure 2-3 times a week. The recommended course is 10-12 baths.
Brend: Vitex
Volume: 170 ml
Barcode: 4810153032652
Composition: Aqua (Water), Maris Sal (Dead Sea Salt), Hydroxyethylcellulose, Propylene Glycol, PEG-40 Hydrogenated Castor Oil, Mentha Piperita (Peppermint) Extract, Eucalyptus Globulus Leaf Extract, Zingiber Officinale (Ginger) Root Extract, PEG-6 Caprylic/Capric Glycerides, Hippophae Rhamnoides (Sea Buckthorn) Extract, Parfum (Fragrance), Benzyl Alcohol, Methylchloroisothiazolinone, Methylisothiazolinone, Hydrolyzed Keratin, Paraffinum Liquidum (Mineral Oil), Melaleuca Alternifolia (Tea Tree) Leaf Oil, Phenylpropanol, o-Cymen-5-ol, Decylene Glycol


Buy