Two Phase Face Lotion-Toner with Zinc Powder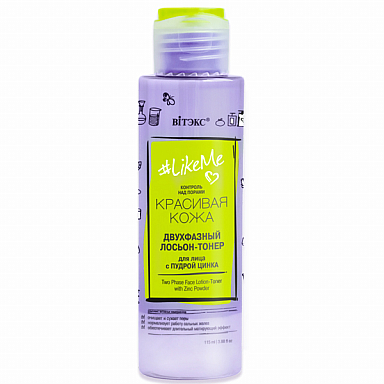 Hello, clear matte skin!
Thanks to its two-phase structure, the toner lotion effectively removes impurities and dead skin cells, while simultaneously acting as a toning lotion and mattifying powder. The work of the sebaceous glands is normalized, the pores are narrowed, the skin remains fresh and matte for a long time.
Absorbent zinc powder - a natural antibacterial agent - absorbs excess sebum, normalizes the functioning of the sebaceous glands, gradually reduces sebaceous plugs in the pores, makes blackheads less noticeable, dries up inflammation, provides the skin with a long-lasting matting effect.
EGG-COLLAGEN complex is a source of collagen, enzymes, B vitamins, minerals that increase the elasticity of the skin and pore walls, due to which enlarged pores gradually tighten and shrink. Egg white helps fight the active work of the sebaceous glands and visibly narrows pores, effectively removes sebum from the depths of the pores, eliminates blackheads and prevents their appearance. Promotes moisture retention, creating a "reserve" of water in the skin, due to which the skin softens and smoothes, and prevents the appearance of dry creases.
Epidermist (unique component of natural origin)
Tightens pores (-11% of total visible pore area) *
Smoother skin (-19% roughness) *
Brightens the skin (observed in 64% of volunteers) *
Reduces the growth of bacteria caused by inflammation and redness (-10%) *
Reduces skin reactivity (-37%) *
Improves cellular renewal (+ 31%) *
Golden kumquat - solar energetic - infuses the skin with vitamins, awakening its energy and radiance.
Witch hazel has antibacterial and soothing properties, strengthens the walls of blood vessels and capillaries, and helps to narrow the pores.
Ginger tones the skin, improves its elasticity and density, and stimulates the recovery processes.
D-panthenol has a healing and softening effect.
* proven by Codif (France)
Brend: Vitex
Volume: 115 ml
Barcode: 4810153036278
Composition: Aqua (Water), Alcohol, Glycerin, Phenoxyethanol, Ethylhexylglycerin, Silica Dimethyl Silylate, Zingiber Officinale (Ginger) Root Extract, Citrus Japonica (Kumquat) Fruit Extract, Zinc Gluconate, Panthenol, Hydrolyzed Egg Protein, Hydrolyzed Collagen, Hamamelis Virginiana (Witch Hazel) Bark/Leaf/Twig Extract, PEG-40 Hydrogenated Castor Oil, Trideceth-9, Saccaride Isomerate, 2-Bromo-2-Nitropropane-1,3-Diol, Parfum (Fragrance)
Buy