Depigmenthing Facial Rejuvenation Mask for All Skin Types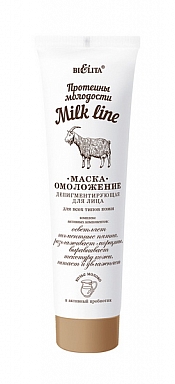 The rejuvenating mask provides perfect skin care, smoothes wrinkles, lightens hyperpigmentation areas and noticeably livens up your complexion.


Goat milk proteins, combined with active probiotic, hydrate and soften skin, leaving it soft and silky.

TONISKIN® promotes collagen synthesis, smoothes wrinkles and evens out complexion.

The complex of vitamins A, C, E and F has high antioxidant activity and enhances cell regeneration, helping skin regenerate quicker and look younger.

Bearberry and ginger extracts possess natural bleaching properties, and target pigmented areas, lightening these and giving the skin an even, glowing tone.

Coconut oil restores and nourishes skin.


Brend: Belita
Volume: 100 ml
Buy