Facial Meso Peeling DEEP CLEANSING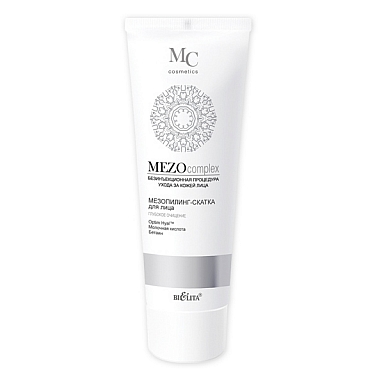 Cleansing and care product that fit any age


The meso roll peel is a next-generation cosmetic product for facial exfoliation. Delicately removes dead skin cells and excess sebum, encourages cell renewal, moisturizes and smoothes your skin, and refreshes a dull complexion.
Optim Hyal™
encourages hyaluronic acid synthesis, restores its ideal balance, increases skin hydration, elasticity, tightness and firmness, reduces imperfections, and smoothes wrinkles. L
actic acid
exfoliates dead skin cells, encourages cell renewal, refreshes and strengthens your skin, and provides a soothing effect.
Betaine, a natural
moisturizer
, maintains hydration balance in your skin, and improves skin firmness and tonicity.
The Meso Roll Peel can be used once or twice per week. Use on irritated, damaged or very dry skin is not recommended.
Brend: Belita
Volume: 100 ml
Buy