Hyaluronic Acid Active Moisturizing BIOFACTOR FACIAL CREAM for completion of machine treatments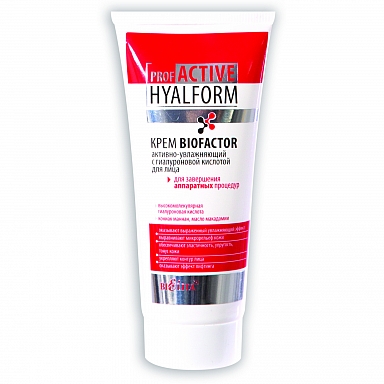 high-molecular hyaluronic acid

konjac glucomannan, macadamia oil

●provide a pronounced moisturizing effect

●smooth out skin microrelief

●ensure skin elasticity, suppleness and tone

●tone facial contours

●provide a lift effect

A multi-active cream with a gentle and light texture for skin recovery after cosmetic treatments: mechanical and mesoroller treatments. Possesses a unique moisturizing capacity, provides a powerful regenerative effect, literally charging skin cells with energy, while filling the skin with every necessary active component that fills deep wrinkles and makes them less noticeable, and creating a reserve of restorative biologically active substances. The formula owes its high efficiency to high-molecular hyaluronic acid, konjac glucomannan and macadamia coil, which help restore and reinforce facial contours, increase tightness and elasticity, improve complexion, smooth out the skin surface, and provide a lasting lift effect.

Brend: Belita
Volume: 200 ml
Barcode: 4810151019501
Buy