Facial Meso Tonic OPTIMAL HYDRATION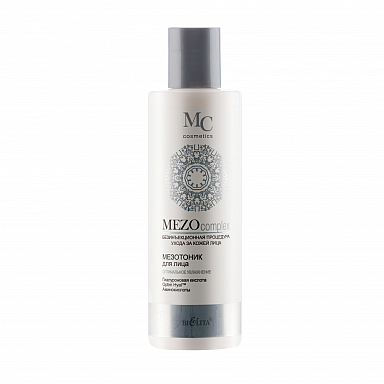 .Cleansing and care product that fit any age
The mesotoner completes a skin cleansing process, tonifies and softens your skin, deeply nourishing with moisture and keeping it inside for a long time. Prepares your skin for efficient impact of core-care products.
Suitable for all skin types


Optim Hyal™
restores the ideal balance of
hyaluronic acid
, increases skin hydration, elasticity, tightness and firmness, reduces imperfections, and smoothes wrinkles. The ingredient hyaluronic acid deeply hydrates your skin and keeps moisture on the surface, smoothes wrinkles, improves skin elasticity and evens skin tone.
An amino acid cocktail
(
taurine, glycine, arginine
) fills skin cells with energy and vitality, promoting cell regeneration.
Brend: Belita
Volume: 200 ml
Buy