Eye Meso Mask INTENSIVE REJUVENATION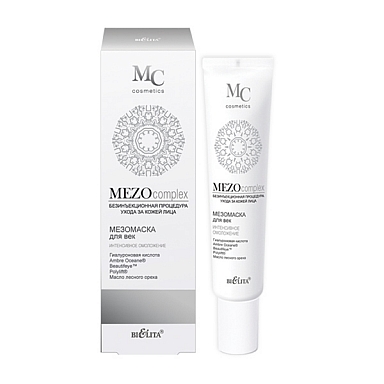 Cleansing and care product that fit any age


The eye mesomask provides complete care for the delicate skin around your eyes: smoothes wrinkles, lifts, relieves tension and erases signs of fatigue, reduces puffiness and dark circles under your eyes, deeply moisturizes and nourishes.
Ambre Oceane®
fills wrinkles, encourages synthesis of collagen and hyaluronic acid, increases skin firmness and elasticity, boosts cell metabolism, protects your skin from free radicals and makes it smoother and more radiant.
Targeted-action hyaluronic acid
penetrates into the deep layers of epidermis, provides a visible smoothing effect by pushing wrinkles out from the inside, and delivers results similar to a mesotherapy salon treatment.
Beautifeye™
lifts eyelid skin, smoothes wrinkles around the eyes, and reduces puffiness and dark circles.
Polylift®
provides a lift effect, makes your skin firm, smoothes skin microrelief and reduces wrinkles.
Hazelnut oil
softens and soothes your skin, nourishes and restores hydrophilic balance.
We recommend using the MesoMask for Eyes once or twice per week, or for instant transformation of eyelid skin.
Brend: Belita
Volume: 30 ml
Buy