Double Action Mud Balm against Hair Loss and Dandruff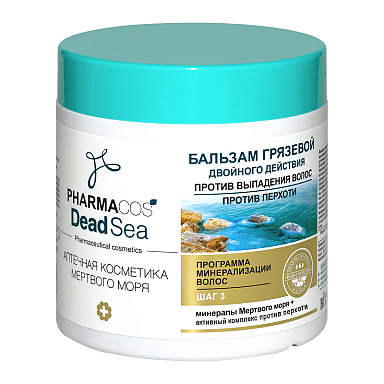 minerals of the Dead Sea + Anti-dandruff complex
- intensively combats dandruff and soothes the scalp;
- mineralizes hair follicles;
- restores hair, gives shine and elasticity.
Mud Balm due to the synergistic action of compound biologically active complexes and deep Dead Sea mud helps to provide a quick and lasting result in the fight against dandruff and hair loss.
The richest in composition of minerals and trace elements, the natural Dead Sea mud beneficially affects the hair and scalp, improves the blood supply and nutrition of hair follicles, has a rejuvenating and regenerating effect on the follicles, enhancing hair growth and preventing their loss. It is a highly effective remedy in the fight against dandruff.
Tryptоnol (a complex of two botanical ingredients - Manuka concentrate and willow extract enriched with salicylic compounds) and Anti-dandruff complex strengthen and complement each other's action: quickly destroy the fungus, remove dandruff flakes, eliminate itching, irritation and peeling of the skin, normalize the lipid balance in the scalp, prevent the re-occurrence of dandruff.
The natural patented complex restores metabolic processes in hair follicles, prevents brittleness and cross section, stimulates hair growth. Visibly improves hair quality: makes them strong, silky, elastic and shiny along the whole length.
Allantoin has a pronounced softening and moisturizing effect.
The natural hair conditioner removes a static charge, improves combability of wet and dry hair, reduces tangling of hair.
The result is effective removal of dandruff, prevention of hair loss, increased growth.
Directions: apply balm onto washed damp hair, gently rubbing into the scalp, massage, distribute balm throughout the length of the hair. After 3-5 min, rinse thoroughly with water. Use a massage mask-scrub, a double-action shampoo and leave-on spray-mask of the line to achieve the best result.
Brend: Vitex
Volume: 400 ml
Barcode: 4810153026903
Composition: Aqua (Water), Cetearyl Alcohol, Silt (Dead Sea Mud), Cetrimonium Chloride, Glycerin, Quaternium-87, Ceteareth-25, Behentrimonium Chloride, Methylpropanediol, Polysorbate 80, Leptospermone, Salicylic Acid, Isoleptospermone, Flavesone, Salix Alba (Willow) Bark Extract, Allantoin, Glycerin, Hydrolyzed Yeast Protein, Phenoxyethanol, Methylparaben, Ethylparaben, Propylparaben, Parfum (Fragrance), Citric Acid, 2-Bromo-2-Nitropropane-1,3-Diol, Disodium EDTA
Buy