Day Face Meso Cream 30+ DEEP HYDRATION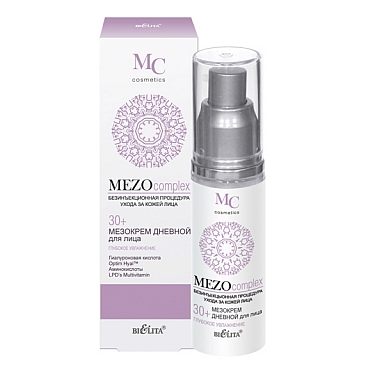 The light-textured day mesocream restores the ideal level of skin hydration, increases skin tonicity and firmness, smoothes skin surface, improves your complexion, and provides a fresh look.
Optim Hyal™
encourages hyaluronic acid synthesis, restores its ideal balance, increases skin hydration, elasticity, tightness and firmness, reduces imperfections, and smoothes wrinkles.
Hyaluronic acid
deeply hydrates your skin and keeps moisture on the surface, increases skin elasticity, smoothes wrinkles, and evens skin tone.
An amino acid cocktail
(
taurine, glycine, arginine
) fills skin cells with energy and vitality, promoting cell regeneration.
LPD's Multivitamin
(
vitamins A, C, E
and
F
) accelerate cell renewal, encourage collagen synthesis and reduce wrinkles.
Polylift®
provides a light lift effect, makes your skin firm, smoothes skin microrelief and reduces wrinkles.
Brend: Belita
Volume: 50 ml
Buy