Balm-Butter Intensive Care for Dry, Brittle and Lackluster Hair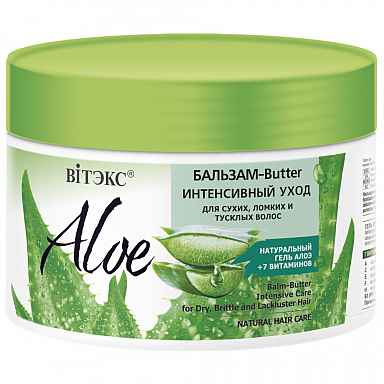 Nutrition and strengthening
Protection against damage
Elasticity and gloss
Rich, nourishing balm-butter, due to the exceptionally effective composition of the components, provides deep moisturizing, nourishment and restoration to hair prone to brittleness, dullness and dryness.Active ingredients for hair beauty:
GEL ALOE VERA exceptionally deeply moisturizes and nourishes the hair and scalp, eliminates discomfort, itching and tightness of the skin, restores the hair structure, prevents fragility, desiccation and the appearance of split ends.
7 VITAMINS - MAXIMUM EFFICIENCY
Vitamins A, C, D and F, enclosed in nano-liposomes, provide the bioavailability and stability of the active ingredients for more intense and long-lasting effects even in the deeper layers.
Vitamin A helps the sebaceous glands to produce the necessary secret that protects the hair from drying out and hair loss, provides a healthy, vibrant glow.
Vitamin C has a powerful antioxidant effect, fights bacteria on the scalp, protects against dandruff, promotes the production of collagen to improve the strength of hair.
Vitamin E nourishes the hair, helps strengthen and restore them, gives smoothness and shine.
Vitamin F enhances the strength of the hair shaft, provides prevention of damage to the hair, supports the scalp health.
Vitamin H (biotin) is an important building material for hair growth, which is able to stimulate the work of "sleeping" hair follicles. Effectively nourishes hair, regulates the function of the sebaceous glands, improves elasticity and strength of hair, protects against external factors.
Vitamin B3 (PP) restores, strengthens the structure of the hair shaft, restores healthy shine, softness, strength to hair, and helps prevent moisture loss.
Provitamin B5 (D-panthenol) nourishes the hair follicles, reconstructs microdamages in the hair structure, provides protection from the damaging effects of external factors, gives elasticity, smoothness and healthy shine.
Keratin is a protein containing about 15 of the most valuable amino acids, including cysteine, due to which microdamages in the hair structure are easily filled and a stable caring and regenerating effect is provided. Deeply moisturizes and conditions the hair, gives a silky smoothness and glossy shine.
The system of the newest conditioners noticeably improves combing of hair, provides an antistatic effect, smoothes the surface of damaged hair, returns it softness and silkiness.
Coconut oil penetrates deep into the hair structure, saturates with nutrients, natural antioxidants, vitamins, essential fatty acids, helps to preserve the integrity of the hair structure.
Result: unusually moisturized, elastic, strong and shiny hair from root to tip.
Directions:
apply balm-butter onto clean wet hair, gently massage, after 1-2 min, rinse with water.
Brend: Vitex
Volume: 300 ml
Barcode: 4810153028754
Composition: Aqua (Water), Cetearyl Alcohol, Cetrimonium Chloride, Glycerin, Cocos Nucifera (Coconut) Oil, Dimethicone, Aloe Barbadensis (Aloe Vera) Leaf Juice, Phenoxyethanol, Methylparaben, Ethylparaben, Propylparaben, Parfum (Fragrance), Behentrimonium Chloride, Ceteareth-25, Polyquaternium-37, Propylene Glycol Dicaprylate/Dicaprate, PPG-1 Trideceth-6, Guar Hydroxypropyltrimonium Chloride, Panthenol, Hydrolyzed Keratin, Lecithin, Sorbitol, Xanthan Gum, Sodium Ascorbyl Phosphate, Tocopheryl Acetate, Glyceryl Linoleate, Glyceryl Linolenate, Retinyl Palmitate, Disodium EDTA, Niacinamide, Benzyl Alcohol, Methylchloroisothiazolinone, Methylisothiazolinone, Citric Acid, Urea, Disodium Phosphate, Biotin, Butylphenyl Methylpropional, Hexyl Cinnamal


Buy