Night Face Meso Cream 40+ INTENSIVE REJUVENATION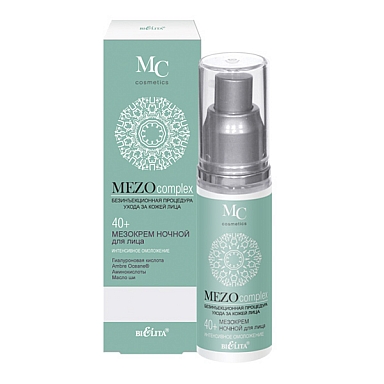 The night mesocream actively encourages cell renewal and hyaluronic acid synthesis during sleep. Increases skin tightness and elasticity, improves texture, and visibly reduces wrinkles. Restores the ideal level of skin hydration and provides complete nourishment.

Ambre Oceane® fills wrinkles, encourages synthesis of collagen and hyaluronic acid, increases skin firmness and elasticity, boosts cell metabolism, protects your skin from free radicals and makes it smoother and more radiant. Targeted-action hyaluronic acid penetrates into the deep layers of epidermis, provides a visible smoothing effect by pushing wrinkles out from the inside, and delivers results similar to a mesotherapy salon treatment. An amino acid cocktail (taurine, glycine, arginine) fills skin cells with energy and vitality, promoting cell regeneration. Shea butter hydrates and softens skin, encourages synthesis of natural collagen and restores your complexion. Hazelnut oil nourishes and hydrates your skin, providing a regenerating and soothing effect. Arnica oil rejuvenates your skin and improves your complexion.

Brend: Belita
Volume: 50 ml
Buy