ULTRA SLIM perfect figure Anticellulite Coffee-Ginger Body Scrub Thermomassage Effect (hot formula)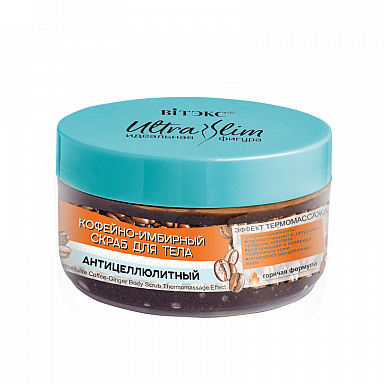 #THERMOMASSAGE
active ingredients:
• deeply cleanse and start lipolysis processes
• smooth and polish the surface
• activate fat breakdown
hot formula
PLEASURE OF ANTI-CELLULITE MASSAGE
The coffee and ginger scrub combines deep skin cleansing and intense anti-cellulite thermal massage, allowing you to truly enjoy body sculpting and slimming treatments.
Natural coffee actively massages the skin, gently exfoliates dead cells, polishes and smoothes the skin, preparing it for the application of other products of the line and significantly increases their effectiveness.
Ginger accelerates metabolism in cells, accelerates the breakdown of fats, stimulates renewal processes, has a pronounced lifting and anti-cellulite effect.
Red pepper enhances blood flow to problem areas, activates microcirculation, helps to remove excess fluid and toxins from cells, and improves skin tone.
Grapefruit helps to normalize metabolic processes in the skin and gradually eliminate cellulite, contributes to the long-term retention of the achieved results.
Macadamia, sweet almond and grape seed oils deeply moisturize the skin, increase its firmness and elasticity, give smoothness, softness and silkiness, and prevent the appearance of stretch marks.
Regular use of the scrub helps to reduce body fat in the abdomen, waist, hips, arms, knees and other problem areas.
Application tips for maximum effect
Apply the scrub to dry or damp skin, massage problem areas - thighs, buttocks, stomach, arms. It is recommended to massage in a circular motion from the outer edge of the area to be massaged to the center. It can be done by hand or with a special brush. The duration of the massage should not exceed 10 minutes, the movements should be intense, but not traumatic. After the massage, rinse off the scrub with water and additionally apply other line products.
Directions: apply a small amount to the skin, massage for 3-5 minutes, rinse with water. For maximum results, it is recommended to use in combination with other line products.
Avoid contact with mucous membranes. The product is very active, so tingling and redness of the skin is possible, this is a normal reaction. If you experience severe burning and discomfort, wash off the product and apply a soothing cream.
Brend: Vitex
Volume: 180 g
Barcode: 4810153038012
Composition: Glycerin, Coffea Arabica (Coffee) Seed Powder, Zingiber Officinale (Ginger) Root, Prunus Amygdalus Dulcis (Sweet Almond) Oil, Macadamia Integrifolia (Macadamia) Seed Oil, PEG-40 Hydrogenated Castor Oil, Trideceth-9, Vitis Vinifera (Grape) Seed Oil, Citrus Paradisi (Grapefruit) Fruit Extract, Polyacrylate Crosspolymer-6, Parfum (Fragrance), Phenoxyethanol, Methylparaben, Ethylparaben, Propylparaben, Isopropyl Myristate, Triticum Vulgare (Wheat) Germ Oil, Tocopheryl Acetate, BHT, Coffea Arabica (Green Coffee) Seed Extract, Capsicum Annuum (Pepper) Extract, Vanillyl Butyl Ether, 1,2-Hexanediol, Caprylyl Glycol, Benzyl Benzoate


Buy