Balancing Care Shampoo for Oily Roots – Dry Ends Hair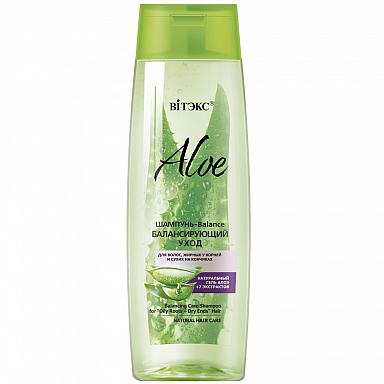 Deep cleansing
Freshness and lightness at the roots
Moistening to the tips
In the most natural transparent formula of the shampoo, the most valuable components are skillfully combined, the effectiveness of which is proven by nature itself. Due to its rich composition, shampoo-balance not only thoroughly, deeply and very gently cleanses the hair and scalp, does not cause dryness, but at the same time provides exceptional balancing and moisturizing care, normalizing the work of the sebaceous glands and helping the hair stay fresh and light longer.
Active ingredients for hair beauty:
GEL ALOE VERA is a source of life-giving moisture and essential nutrients that penetrate deep into the hair structure, nourish the hair along its entire length, eliminate microdamages, give strength and elasticity, protect from breakage and section.
7 EXTRACTS - MAXIMUM EFFICIENCY
Burdock extract strengthens hair follicles, stopping hair loss and stimulating their growth, gives hair strength, elasticity and healthy shine.
Nettle leaf extract heals hair and scalp, effectively strengthens the roots, gives hair smoothness, vitality and attractive shine.
Oak bark extract prevents fragility of hair and the appearance of split ends, and also reduces the secretion of the sebaceous glands, makes hair docile and light.
Lingonberry leaf extract has anti-inflammatory, astringent properties, helps to normalize the sebaceous glands.
Green tea extract has a powerful antioxidant effect, heals the hair along the entire length, stimulates blood circulation in the scalp.
Extract of marigold flowers (calendula) helps to effectively combat excessive scalp greasiness, dandruff and itching, enhances the hair strength.
Lemongrass extract normalizes the lipid balance of the scalp, well moisturizes the hair, helps to maintain freshness and purity of the hair longer.
Salicylic acid has a pronounced exfoliating effect, effectively cleans the scalp from dead cells. It has antiseptic properties, contributes to the normalization of the sebaceous glands, accelerates the regeneration of damaged fibers.
Keratin is a protein containing about 15 of the most valuable amino acids, including cysteine, due to which microdamages in the hair structure are easily filled and a stable caring and regenerating effect is provided. Deeply moisturizes and conditions the hair, gives a silky smoothness and glossy shine.
Result: hair looks fresh, well-groomed, healthy and attractive.
Directions: apply shampoo-balance onto wet hair, gently massage, then rinse with water. Repeat the procedure if desired. In order to achieve the best result, additionally use the light balm of this line.
SUITABLE FOR DAILY APPLICATIONS
Brend: Vitex
Volume: 400 ml
Barcode: 4810153028761
Composition: Aqua (Water), Sodium Laureth Sulfate, Cocamidopropyl Betaine, Disodium Cocoamphodiacetate, Lauryl Glucoside, Cocamide MIPA, Laureth-4, Sodium Chloride, Polyquaternium-7, Aloe Barbadensis (Aloe Vera) Leaf Juice, PEG-7 Glyceryl Cocoate, Parfum (Fragrance), Hydrolyzed Keratin, Disodium EDTA, Allantoin, Benzyl Alcohol, Methylchloroisothiazolinone, Methylisothiazolinone, Citric Acid, Cymbopogon Citratus (Lemongrass) Oil, PEG-40 Hydrogenated Castor Oil, Calendula Officinalis (Marigold) Extract, Camellia Sinensis (Green Tea) Leaf Extract, Urtica Dioica (Nettle) Extract, Vaccinium Vitis-Idaea (Cowberry) Leaf Extract, Quercus Robur (Oak) Bark Extract, Arctium Lappa (Great Burdock) Root Extract, Salicylic Acid, Butylphenyl Methylpropional, Hexyl Cinnamal
Buy