Cream-Foam for Washing and Deep Pore Cleansing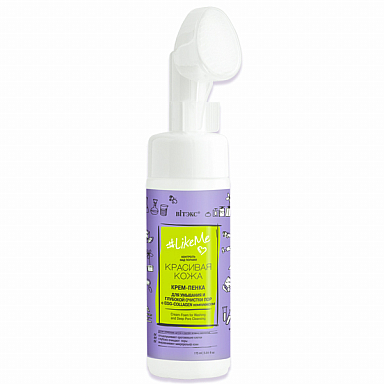 Wow! What a deep pore cleansing!
With a gentle and highly effective foam cream, you can easily remove makeup and impurities from the skin, while the ultra-soft silicone brush will help deeply cleanse pores. As a result, blood circulation is activated, the skin microrelief is leveled, the pores are narrowed, the skin breathes and absorbs nutrients better.
The rich and balanced formula makes the cleansing process effective and gentle at the same time, while providing additional skin care.
EGG-COLLAGEN complex is a source of collagen, enzymes, B vitamins, minerals that increase the elasticity of the skin and pore walls, due to which enlarged pores gradually tighten and shrink. Egg white helps fight the active work of the sebaceous glands and visibly narrows pores, effectively removes sebum from the depths of the pores, eliminates blackheads and prevents their appearance. It promotes moisture retention, creating a "reserve" of water in the skin, due to which the skin softens and smoothes, and prevents the appearance of dry creases.
Epidermist (unique component of natural origin)
Tightens pores (-11% of total visible pore area) *
Smoother skin (-19% roughness) *
Brightens the skin (observed in 64% of volunteers) *
Reduces the growth of bacteria caused by inflammation and redness (-10%) *
Reduces skin reactivity (-37%) *
Improves cellular renewal (+ 31%) *
Phytotal Os deeply cleanses the skin, shrinks pores, regulates sebum production, restores the natural balance of the skin.
Golden kumquat - solar energetic - infuses the skin with vitamins, awakening its energy and radiance.
* proven by Codif (France)
Directions: press the dispenser until foam appears, gently massage your face with a brush in a circular motion, rinse with water.
The super-soft, non-porous brush with rounded tips is made of special silicone, so it effectively cleanses the skin without irritating or scratching, and does not accumulate makeup residues. It will help to achieve a better effect than if you washed your face with your hands. Designed for multiple use.
HOW IS IT CORRECT AND EFFICIENT TO USE Cleansing Foam with a Silicone Brush?
Foaming agent with a soft silicone brush simultaneously distributes the cream foam and helps massage the skin. The skin becomes fresh and radiant, silky and smooth. You will notice an amazing effect after the first application. Daily routine skin care will turn into a pleasant procedure.
Press the dispenser until foam appears. Gently massage the skin with a brush in a circular motion - this way you will achieve deep cleansing, activate blood circulation in the epidermis, which will help to noticeably improve skin elasticity and give your face freshness, brightness and radiance.
It is enough to process each zone within just 15 seconds. Thus, a full processing cycle will take you a little more than 1 minute:
1.treat cheekbones and cheeks first;
2. go to the nose and chin - massage them thoroughly, but without excessive pressure;
3. Finish cleansing in the forehead area. Avoid touching the hairline and delicate skin around the eyes.
After cleansing your face completely, rinse your face and brush, then apply a toner for subsequent facial skin care.
Brend: Vitex
Volume: 175 ml
Barcode: 4810153036261
Composition: Aqua (Water), Coco-Betaine, Cocamidopropylamine Oxide, PEG-12 Dimethicone, PEG-40 Hydrogenated Castor Oil, Phenoxyethanol, Methylparaben, Ethylparaben, Propylparaben, Melia Azadirachta (Margosa) Leaf Extract, Arctium Lappa (Burdock) Root Extract, Lecithin, Citrus Japonica (Kumquat) Fruit Extract, Parfum (Fragrance), Hydrolyzed Egg Protein, Hydrolyzed Collagen, 2-Bromo-2-Nitropropane-1,3-Diol, Saccaride Isomerate, Linalool
Buy