PharmaCos in sachet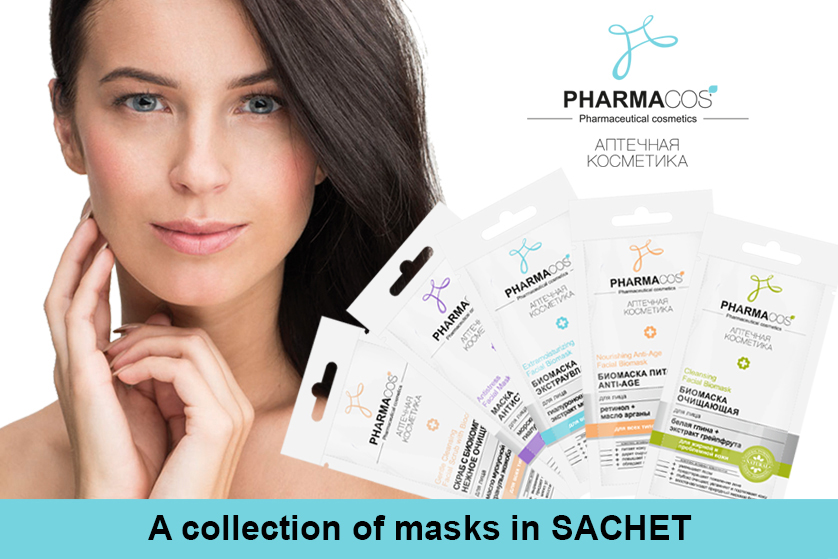 Pharmacos - the multifunctional system of skin care pharmaceutic products.

Advanced achievements in cosmetic field combined with natural ingredients are aimed at fightening major skin problems:

Relieve skin irritation and redness,
Restore natural greasy balance,
Regulate microcirculation,
Prevent acne,
Promote elimination of toxins,
Effectively whiten skin,
Prevent wrinkle appearance.
Products of the multiple effects help control and prevent the appearance of pigmented spots, couperosis, wrinkles and skin dryness, and provide skin comfort for 24 hour.
ADVANTAGES OF MASKS IN SACHET

1. Profitability. Even if the buyer cannot afford a large package of the product, a small bag can be an "economical" alternative. There are 2 disposable sachets in the packing. You can purchase several different masks without overpaying for the volume of packaging.
2. Ease of use. Masks in sachets are easy to take on a trip, to work, they do not take up much space and do not require additional packaging.
3. Convenience of placement in the store. It is easy to place products in a sachet in the checkout area, at the locations of goods of impulse demand, as well as in any free place in the store.
Products line PharmaCos in sachet