Growth and Strength
Luxurious locks are crowning glory of a woman. Strong, firm, healthy and shining hair is a real visiting card and a secret of beauty and woman attractiveness. Hardly anybody stay indifferent at the sight of streaming waterfall of hair, that's why women try every trick to have a magnificent plait. Certainly strong and thick hair is a nature's gift: quantity of hair bulbs, length of hair growth phase is genetically conditioned. However, you can influence on these factors by particular cosmetic goods, activating and promoting hair growth.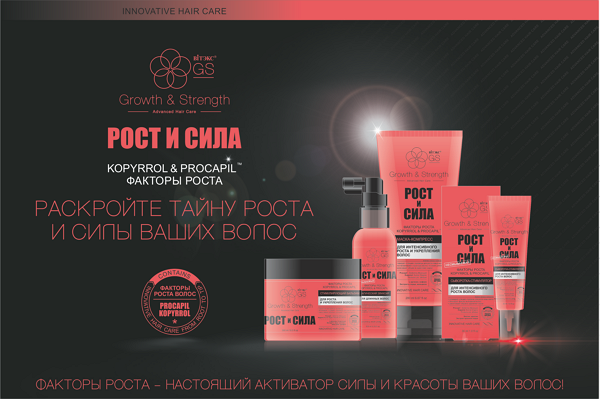 Discover a secret of your hair growth and strength!
The secret of formula — an effective combination of growth factors — PROCAPIL™ and KOPYRPOL, which actively strengthen hair, providing necessary nourishing and promoting growth.
PROCAPIL™ — an innovative complex of intense action for strengthening and promoting of hair growth — directly affects on hair follicles and increases their life cycle. Protects and restores hair structure, preventing thinning and loss.
KOPYRPOL promotes hair growth phase (anagen), strengthens hair follicles, providing hair roots with oxygen and necessary nutrients.
Penetrating with hair, D-PANTHENOL fills in damages and microflows that makes hair smooth, shining and elastic and prevents splitting of ends.
L-ARGININE and CAFFEINE tone up scalp, strengthen hair roots and promote hair growth, preventing its loss. Keep hair beautiful and healthy.
The extracts of red pepper, sweet flag and ginseng improve scalp blood supply and promote hair growth, strengthening roots.
GLOSSYLIANCE is a combination of natural extracts — sugar cane and lemon peel — which smoothes hair scales, enhances shine and gives softness.