Vinyl Effect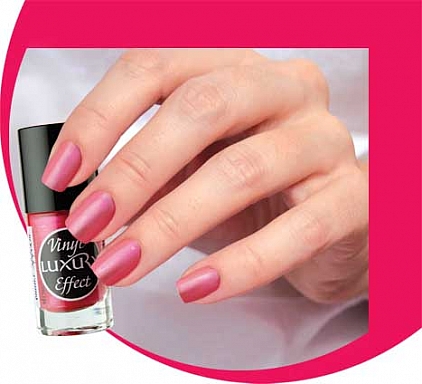 Your desire to have well-manicured hands is natural! Meet a new nail polish — more than just a nail polish. It will last a whole week and look great!
Is this a dream come true?
Finally, an alternative to gel polish. A gel coat has to be cured under an ultraviolet lamp, which may damage your health, while the effects of UV radiation are not yet fully understood. To avoid doing harm to your health, it is better to pick polishes that do not need to be UV-dried to last long.
And that is VINYL EFFECT, your new nail polish.
VINYL EFFECT LUXURY is there to make its owners happy — this is a breakthrough in cosmetic nail products.
Made from materials by Fiabila, France.
Available in 15 shades:
90 Muse
91 Innocence
92 Reef
93 Illusion
94 Zero Gravity
95 Romance
96 Vintage
97 Deluxe
98 Flight
99 Mania
100 Passion
101 Diva
102 Grandeur
103 Insanity
104 Decadence
Buy