Balm-Light Balancing Care for Oily Roots – Dry Ends Hair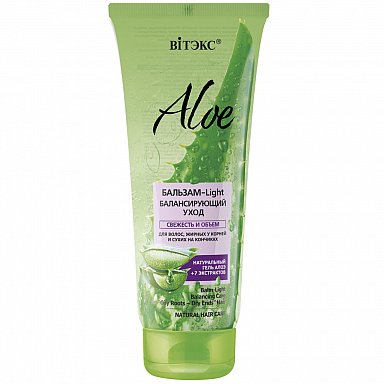 Ease without weighting
Moistening throughout the length
Freshness and radiant shine
Ultra-light hair balm with the most effective transparent formula designed specifically for hair, oily at the roots and dry at the tips. Thanks to a cascade of valuable natural components, it provides a truly unique balancing effect, helps to normalize the oiliness of the hair at the roots, compensates for the lack of moisture and nutrients, facilitates styling, gives the hair the desired density and lasting lush volume.
Active ingredients for hair beauty:
GEL ALOE VERA has an exceptional moisturizing and healing effect, fills microdamages in the hair structure, restores and smoothes, protects hair from breakage.
7 EXTRACTS - MAXIMUM EFFICIENCY
Burdock extract strengthens hair follicles, stopping hair loss and stimulating their growth, gives hair strength, elasticity and healthy shine.
Nettle leaf extract heals hair and scalp, effectively strengthens the roots, gives hair smoothness, vitality and attractive shine.
Oak bark extract prevents fragility of hair and the appearance of split ends, and also reduces the secretion of the sebaceous glands, makes hair docile and light.
Lingonberry leaf extract has anti-inflammatory, astringent properties, helps to normalize the sebaceous glands.
Green tea extract has a powerful antioxidant effect, heals the hair along the entire length, stimulates blood circulation in the scalp.
Extract of marigold flowers (calendula) helps to effectively combat excessive scalp greasiness, dandruff and itching, enhances the hair strength.
Lemongrass extract normalizes the lipid balance of the scalp, well moisturizes the hair, helps to maintain freshness and purity of the hair longer.
Keratin is a protein containing about 15 of the most valuable amino acids, including cysteine, due to which microdamages in the hair structure are easily filled and a stable caring and regenerating effect is provided. Deeply moisturizes and conditions the hair, gives a silky smoothness and glossy shine.
The system of innovative air conditioners facilitates combing and styling of hair, prevents fragility, gives lightness, silkiness and volume, does not weigh down the hair.
Result: hair looks fresh, well-groomed, healthy, voluminous and attractive.
Directions: apply balm- ight onto clean damp hair, gently massage, after 1-2 min rinse with water.
SUITABLE FOR DAILY APPLICATIONS
Brend: Vitex
Volume: 200 ml
Barcode: 4810153028778
Composition: Aqua (Water), Decyl Glucoside, PEG-12 Dimethicone, PEG-40 Hydrogenated Castor Oil, Trideceth-9, Polyquaternium-37, Hydroxyethylcellulose, Aloe Barbadensis (Aloe Vera) Leaf Juice, Silicone Quaternium-18, Trideceth-6, Trideceth-12, Glycerin, Phenoxyethanol, Methylparaben, Ethylparaben, Propylparaben, Parfum (Fragrance), Allantoin, Hydrolyzed Keratin, Arctium Lappa (Great Burdock) Root Extract, Cymbopogon Citratus (Lemongrass) Oil, Calendula Officinalis (Marigold) Extract, Camellia Sinensis (Green Tea) Leaf Extract, Urtica Dioica (Nettle) Extract, Vaccinium Vitis-Idaea (Cowberry) Leaf Extract, Quercus Robur (Oak) Bark Extract, Benzyl Alcohol, Methylchloroisothiazolinone, Methylisothiazolinone, Citric Acid, Butylphenyl Methylpropional, Hexyl Cinnamal
Buy