Dry Texturing Hair Styling Spray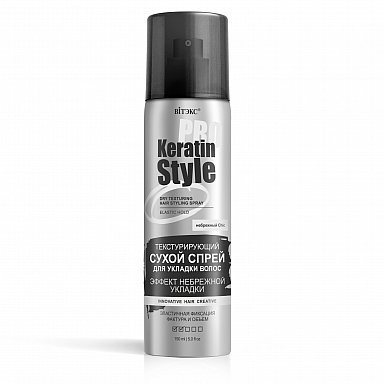 Is your hair soft, thin, naughty and does not hold volume at all?
Do you like the classic airy splendor of styling?
But sometimes you want to be eccentric and impudent?
INNOVATION from VITEX
MOBILE FIXATION and FRENCH SLOPPY CHIC
FOR ALL HAIR TYPES

Dry spray is an innovative product, indispensable for creating both stylish, consistent images with elastic air volume, and for creative, deliberately disheveled styling in the style of "French chic".
An innovative modeling complex raises the hair at the roots and thickens the hair rods, making the hairstyle visually more voluminous and lush, while maintaining the natural mobility of the styling.
PROKeratin-complex HairProtect fills hair with keratin, restoring its structure, gives a healthy shine, elasticity and strength.
The spray is evenly distributed throughout the hair, emphasizing the texture of the strands and fixing them in a favorable position. Provides elastic fixation, allows hair to remain mobile and not lose shape, without weighting and the effect of "artificiality".
Stylish life hacks:
For additional volume when spraying, focus on the root zone. Give hairstyle texture and relief by your hands.
Directions: shake the bottle vigorously for 20 sec, spray evenly onto damp hair and style.
Brend: Vitex
Volume: 150 ml
Barcode: 4810153033147
Composition: Alcohol, Acrylates/Octylacrylamide Copolymer, Aminomethyl Propanol, Parfum (Fragrance), Panthenol, Phenyl Trimethicone, Hydrolyzed Keratin, Alpha-Isomethyl Ionone, Butylphenyl Methylpropional, Citronellol, Geraniol, Hexyl Cinnamal, Limonene, Linalool. Пропеллент / Propellant: A - Isobutane, B - Dimethyl Ether, C - Butane, Isobutane, Propane.   See batch No. for propellant type.


Buy