PRO Keratin Style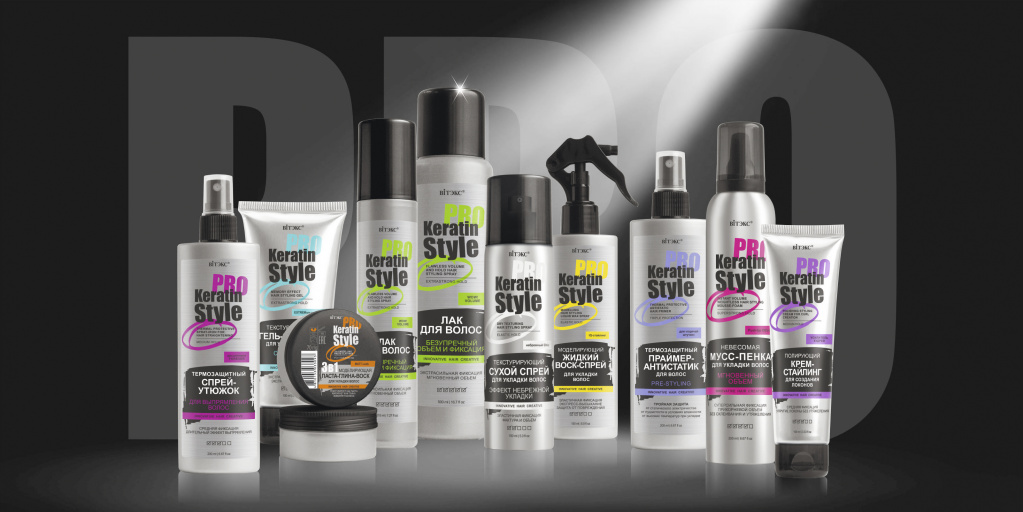 VITEX presents the full range of PROFESSIONAL COSMETICS for STYLING

EFFECTIVE SOLUTION OF THE MOST CREATIVE AND COMPLEX TASKS
REGARDING MODELING, STYLING AND FIXING OF HAIRSTYLES
What is your hair? Thin or dense? Curly, wavy, straight? Naughty, damaged, painted? Long or short?
Do you like natural negligence or do you want to style hair by hair?
In the line of PRO Keratin Style, you can find a product that is suitable specifically for your hair, and create an infinite number of images for your mood:
- classic neat styling
- long-term lush volume from the very roots
- modern custom hairstyles
- deliberately careless styling in the style of "French chic"
- perfectly smooth, straightened hair
- expressive curls and seductive curls
- creative styling for short and long hair
We made sure not only to make your hair beautiful, but also to preserve their health, therefore we included the innovative keratin complex ProKeratin-complex HairProtect in all formulas.
Keratin is a natural protein, the main "building material" of hair. Keratin scales, like tiles, cover each hair. If the hair is exposed to the negative effects of environmental factors (cold, drying, exposure to thermal appliances, etc.), the scales are damaged and the hair becomes dull, brittle, thin.
Keratin complex ProKeratin-complex HairProtect compensates for the lack of its own keratin in the hair, restoring them from the inside, giving them solidity, strength and shine.
Products line PRO Keratin Style