PURE MINERAL Double Protection Antiperspirant with Antibacterial Complex and Aloe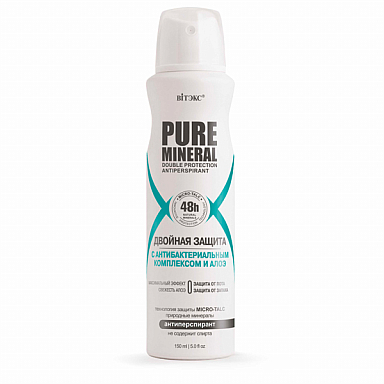 For the first time * the developed MICRO-TALС technology has combined the properties of natural minerals, natural aloe gel and an antibacterial complex for maximum effect:
· Double protection against sweat and odor up to 48 hours
· Revitalizing and antimicrobial action
· Long-lasting freshness and comfort
* In the range of CJSC "VITEX"
Brend: Vitex
Volume: 150 ml
Barcode: 4810153032591
Composition: Aluminum Chlorohydrate, Cyclopentasiloxane, Cyclohexasiloxane, Isopropyl Myristate, Caprylic/Capric Triglyceride, Stearalkonium Hectorite, Propylene Carbonate, Parfum (Fragrance), Aloe Barbadensis (Aloe Vera) Leaf Juice, Propylene Glycol, Ethylhexylglycerin, Octenidine HCl, Butylphenyl Methylpropional, Benzyl Alcohol, Hexyl Cinnamal. Пропеллент / Propellant: A - Isobutane, B - Dimethyl Ether, C - Butane, Isobutane, Propane. Тип пропеллента см. в номере партии / See batch No. for propellant type.
Buy