PLEX THERAPY
PLEX THERAPY
PROGRAM OF DEEP RECOVERY OF DAMAGED HAIR AND PROTECTION AGAINST FUTURE DAMAGES

VITEX represents an innovative program for total restoration of damaged hair PLEX THERAPY Shock therapy. Anymore, there is no need to seek a compromise between the desire to experiment and the health of the hair.
PLEX THERAPY technology recreates and enhances structural micro-links, connecting fibers within each hair, improving hair quality after the first application and increasing resistance against future damage.
Change yourself and enjoy the restored and strong hair, like after the salon, every day.
No more hair damage, this is not a revolution.
This is evolution.
PLEX will change everything!
1. Three-stage hair restoration procedure: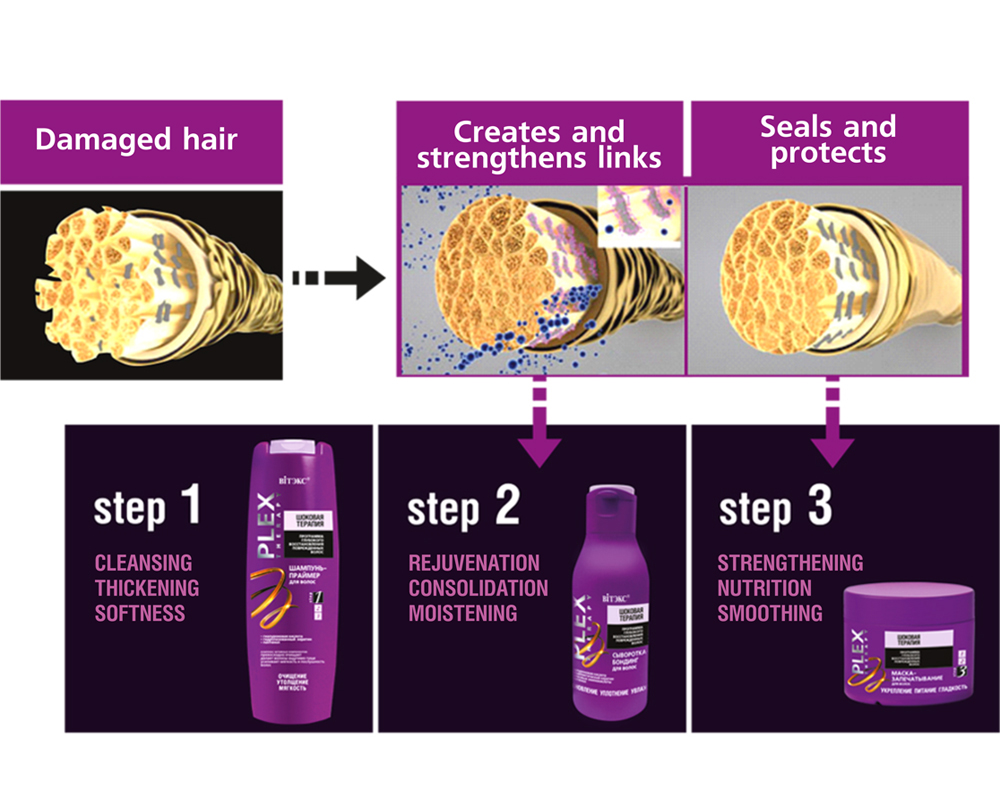 2. Express procedure of instant hair repair: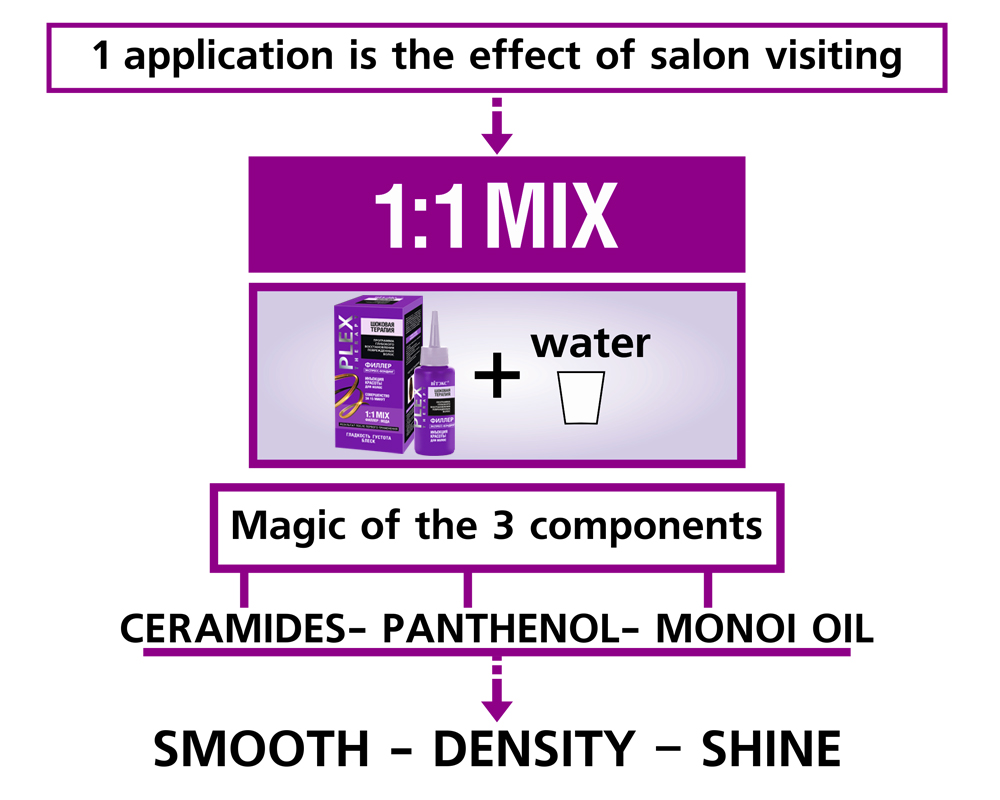 Result after using the PLEX THERAPY Shock therapy entire line means is comparable to effective salon restorative procedures for hair. Hair is strong, smooth, elastic, filled with volume and shine.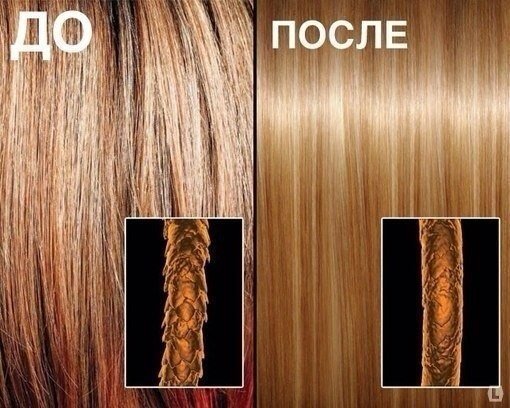 The program PLEX THERAPY. Shock therapy is RECOMMENDED if:
- you have dry and brittle hair with split ends;
- you often dye your hair;
- your hair lost its shine and looks dull and "tired"
- you have unruly hair with porous structure;
- you often set hair with a hair dryer and / or straighten with an hair straightener.
ACTIVE COMPONENTS:
BIOMIMETIC Keratin is the smallest element, composing the structure of a natural hair, penetrates deep into the structural layers of hair, recreating the amino acid sequence of proteins, purposely restores and fills damaged areas, strengthens the cortex, distinctly thickening the diameter of each hair, giving the hair a noticeable density and volume.
Hydrolyzed Keratin restores damaged areas, thickens the hair structure, increases strength and reduces hair fragility.
HYALURONIC ACID deeply moisturizes, gives hair softness, resilience, elasticity and smoothness, creating the effect of flowing silk.
SILK AMINO ACIDS and CREATINE moisturize and smooth the surface of the hair, enveloping the hair with an invisible film, giving them a dazzling diamond shine, smoothness and softness, facilitate combing, reduce hair fragility.
Panthenol fills with an additional volume, increasing the density and body of hair, creates an additional protective layer on hair surface, increasing resistance of hair to thermal and mechanical damage, prevents the appearance of split ends.
CERAMIDES fill the damaged and porous areas, restoring and strengthening the hair from inside, level and smooth the cuticle of hair, giving the hair smoothness and elasticity.
MONOI OIL provides intensive deep nutrition and hydration of the strands, prevents the appearance of split ends, gives the hair softness, silkiness and brilliant shine.
Products line PLEX THERAPY