ICY WATERMELON GEL TOOTHPASTE FOR KIDS FLUORIDE-FREE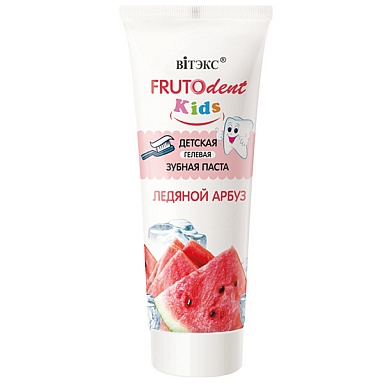 The complex of active ingredients:
• restores the mineral balance of tooth enamel
• removes cariogenic bacteria
• prevents gingivitis
The balanced formula of the toothpaste helps to ensure proper children's oral care. Pink-red, like the pulp of juicy watermelon, gel paste contains soft green granules, which very thoroughly and carefully clean the teeth from plaque and gently polish them. Calcium glycerophosphate restores the mineral balance of enamel, provides a high degree of protection against caries. Allantoin prevents gingivitis.
Thanks to the fascinating taste of ice watermelon, brushing your teeth is now incredibly fun and pleasant!

FOR THE MOST FAVORITE CHILDREN
Brend: Vitex
Volume: 65 g
Barcode: 4810153027863
Composition: Sorbitol, Glycerin, Aqua (Water), Hydrated Silica, Sodium Lauroyl Sarcosinate, Aroma (Flavor), Poloxamer 407, Cellulose Gum, Silica, CI 74260 (Pigment Green 7), Sodium Saccharin, Methylparaben, Xanthan Gum, Allantoin, Calcium Glycerophosphate, Propylparaben, CI 16255
Buy