YOU & NATURE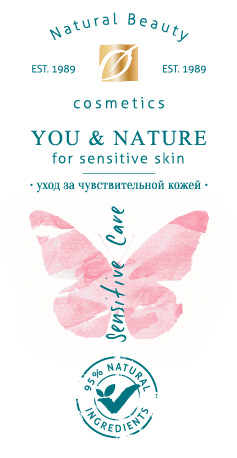 Sensitive skin is that which is characterized by heightened reaction to internal and external irritants: a lack of nutrients, vitamins or minerals in the body, improper skin care, or aggressive environmental impact.
Individuals with sensitive skin are often conscious about cosmetic formulas and prefer products that do not contain alcohol, SLS/SLES, parabens, silicones or colorants.
What these formulas should contain is active ingredients with soothing and strengthening effects, which relieve redness, irritation and skin reactivity, and restore the skin's healthy condition.

BELITA has created the YOU & NATURE beauty line for sensitive facial, body skin and scalps.
YOU & NATURE products include up to 95 percent natural ingredients, which have a positive effect on skin condition and activate
the skin's protective function.
YOU & NATURE active ingredients:
Mexican hyssop reduces skin redness and reactivity, restores the skin barrier function, increases skin glow and evens out the tone.
Butcher's-broom, Brahmi and calendula extracts, and hydrolyzed yeast protein strengthen vessel walls, thus providing an anti-couperose effect, soothing the skin and relieving irritation.
Hydrolyzed corn protein moisturizes the skin, promotes rapid healing, and increases resistance to damage.
Heart-leaved daisy stem cells neutralize free radicals, smooth out skin blemishes and improve skin appearance.
Shea butter and argan oil intensively reinforce the skin barrier function, effectively nourish and deeply moisturize the skin, soothe, and promote regeneration, reducing visible inflammation and irritation.
D-panthenol and allantoin soothe and moisturize the skin, reducing reactivity.
Hamamelis, rosemary, garden sage, hop, lemon and horse-chestnut extracts correct wrinkles, improve collagen synthesis and prevent premature
skin aging.
Iris florentina extract slows down skin aging, reinforces the skin barrier function, and reduces the length and depth of wrinkles.

Products line YOU & NATURE