RETINOL & COLLAGEN meduza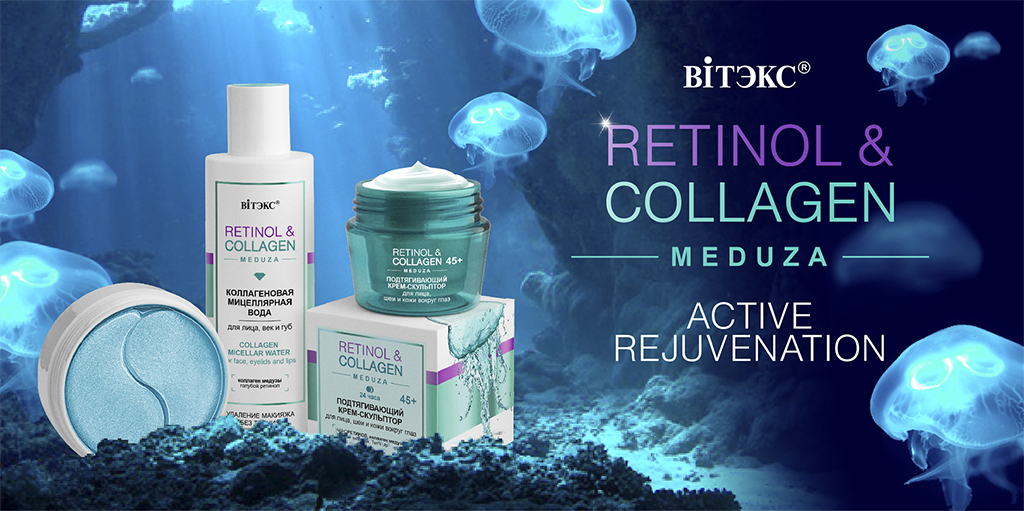 The RETINOL & COLLAGEN meduza line is the modern generation of anti-aging care.
DOUBLE POWER OF REJUVENATION
Nanoretinol and jellyfish collagen complement and enhance each other's action: they provide a long-lasting lifting effect, smoothen wrinkles as much as possible, even out complexion and restore a healthy glow to the skin. Each product is enriched with powerful moisturizing ingredients and highly effective "youth complexes", developed taking into account the characteristics of the skin of different ages.
ACTIVE COMPONENTS
Nanoretinol in encapsulated form has a high penetrating ability and when applied to the skin, it is activated, gradually releasing vitamin A, which penetrates into the deep layers and acts for a long time. It starts the processes of skin restoration at the cellular level, increases the elasticity and density of the skin, smoothes wrinkles, and evens out the complexion.
Jellyfish collagen - a natural collagen of marine origin - easily penetrates the skin, replenishes the lack of its own collagen and saturates with active anti-aging substances, which contributes to a three-dimensional tightening of facial contours and smoothing of wrinkles. Maintains an optimal level of hydration, strengthens the collagen-elastin framework of the skin, increases its firmness and elasticity, reduces the number and depth of wrinkles.
An innovative complex of 6 peptides has a proven * rejuvenating and moisturizing effect:
• "crow's feet" are reduced by 20%
• 51% reduction in wrinkles under the eyes
• 46% improvement in skin elasticity
• increased skin hydration by 67%
A complex of 4 peptides evens out the skin surface, reducing age-related changes. Has a proven ** action:
• 38% increase in skin elasticity
• 74% improvement in smoothness
* efficiency proven by United Active (Korea)
** efficiency proven by Infinitec (Spain)
Thalassin has a pronounced bot-effect: it promotes muscle relaxation and reduces wrinkles.
Ten's Up stimulates the production of its own collagen, improves skin elasticity, providing a pronounced lifting effect and smoothing wrinkles.
Blue retinol - a natural component based on blue algae - stimulates cell renewal, deeply moisturizes the skin, and improves complexion.
Hyaluronic acid saturates cells with moisture, gives the skin a firm, fresh and toned appearance, reduces wrinkles caused by dehydration.
Omega acids intensively nourish the skin, eliminating the feeling of dryness and tightness.
Modern lifting components provide a pronounced V-shape effect: they fight against sagging skin, tighten the oval of the face, and restore clarity to the contours.
Fucogel® penetrates into the deep layers of the epidermis and eliminates moisture deficit in cells, smoothing out wrinkles caused by dehydration.
Red algae extract restores tired skin, shrinks pores, gives the skin a healthy natural glow, softness and velvety.
Majestem® provides an instant lifting effect, visibly lifts the contours of the face, leaves the skin smooth and silky.
The complex of fruit acids delicately exfoliates dead cells and activates the processes of renewal and rejuvenation.
Products line RETINOL & COLLAGEN meduza