VITEX SUN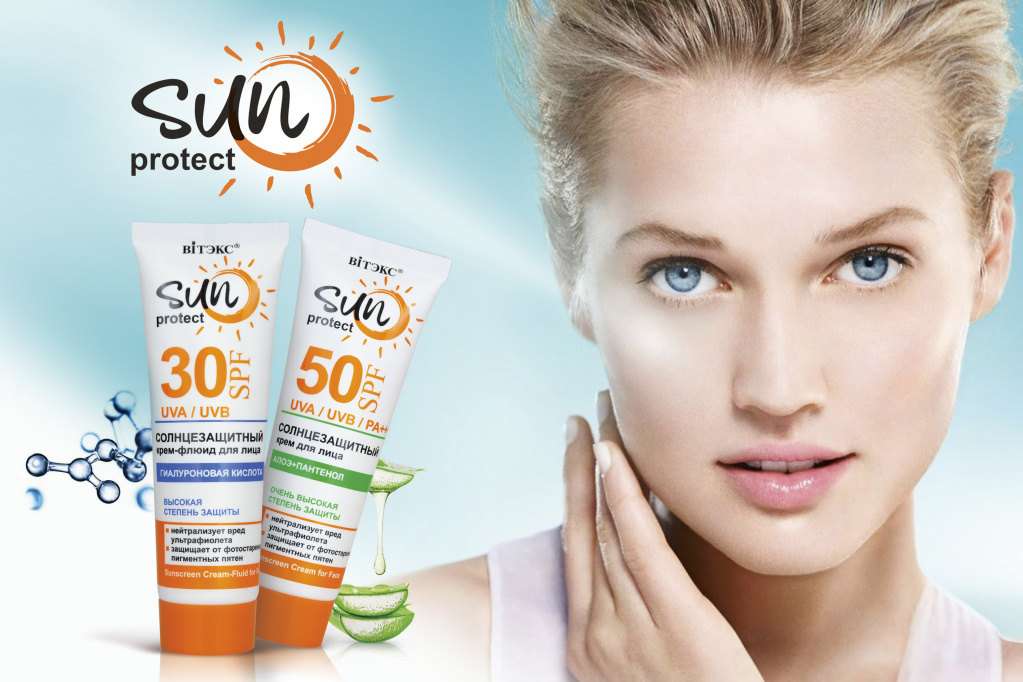 SUN PROTECT
SUN PROTECTION COSMETICS
OF NEW GENERATION
EVEN AND SAFE TANNING
PROTECTION AGAINST PHOTOAGING AND PIGMENT SPOTS
· HIGHEST LEVEL OF PROTECTION SPF 30 and SPF 50
· effective combination of high quality physical and chemical UV filters (Germany) UVA/UVB/PA+++
· special components for nourishing, moisturizing and restoring the skin
· no stickiness or white marks
Effective combination of high-quality physical and chemical UV filters (Germany) blocks the negative effects of UVA and UVB rays on the skin. Helps prevent redness, sunburn, pigmentation and freckles, protects the skin from photoaging and loss of elasticity.
SUN PROTECTION SUN PROTECTION
face cream face cream-fluid
SPF 50 SPF 30
HIGHEST LEVEL OF PROTECTION HIGHEST LEVEL OF PROTECTION
Skincare active Skincare active
components: D-pantenol, components: hyaluronic acid,
natural aloe vera gel, macadamia oil, watermelon extract,
apricot oil. green tea extract.
Velvety, comfortable texture. Light, non-greasy, delicate texture.
VITEX sunscreens are great for protecting hypersensitive skin areas (nose, ears, cheekbones, shoulders, areas with tattoos), as well as fair and reactive skin.