SPECIAL CARE OIL ELIXIR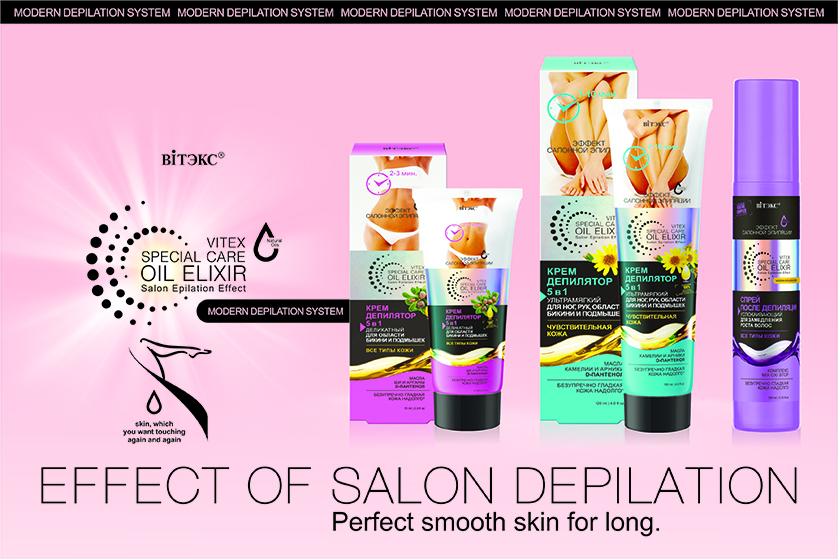 Smooth silky skin, which you want touching again and again, is a dream of every woman. In the history of mankind, many ways have been invented to get rid of unwanted hair: molten wax and sugar, vegetable resins, threads twisted around each hair, a razor, tweezers, an electric epilator ...
Most of these procedures are quite unpleasant and take time. That's why one of the most popular and effective methods of removing excess hair is a depilatory cream.
Especially for the most demanding customers, company VITEX has developed a range of products for removing unwanted hair and slowing their subsequent growth. Special formulas allow not only painlessly remove hair of different length and thickness, but also provide the skin with effective soothing and restorative care.
Avocado oil due to the balanced composition, most similar to the lipid structure of the skin, penetrates deep into cells, generously nourishes and actively repairs damaged areas, tones up and strengthens the skin.
Apricot oil perfectly nourishes, deeply moisturizes, stimulates the production of collagen and elastin, activates the processes of skin regeneration, gives attractive softness, smoothness and silkiness.
Shea butter differs the strongest nutritious and moisturizing properties, easily absorbs into skin, restores the lipid balance of cells, makes the skin noticeably more dense, smooth and tender.
Argan oil has a powerful antioxidant effect, effectively fights against free radicals, provides active protection against adverse external influences, accelerates the regeneration of tissues.
Camellia oil promotes the stimulation of local metabolism and blood circulation, saturation of tissues with vitamins and nutrients, deep moistening, which allows to improve the general condition of skin, restore its healthy appearance, radiance and attractiveness.
Arnica oil quickly soothes the skin, saturates the cells with antioxidants and irreplaceable valuable nutrients, restores resilience and elasticity.
D-panthenol effectively removes irritations, softens, restores, promotes the healing of small lesions, strengthens the protective barrier.
Products line SPECIAL CARE OIL ELIXIR