Ms. Perfection. Microdermabrasion Effect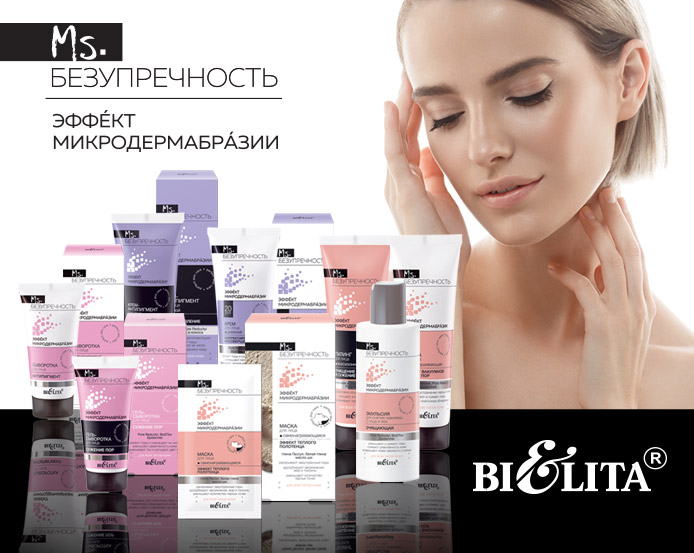 Microdermabrasion is the first step toward solving skin problems. It is advisable to follow up the treatment with cosmetics that contain cosmetics that contain bleaching, pore-reducing and smoothing components, as active ingredients penetrate deep into the skin much better after exfoliation.
Ms. Perfection. Microdermabrasion Effect is a comprehensive facial care program for enlarged pores, uneven complexion and age spots.
ACTIVE INGREDIENTS
Pore
Reductyl
– a wholly-natural ingredient obtained from the agarikon fungus.
Agarikon is a long-living tree fungus that grows on coniferous trees and is known for a high content of agaric acid. It is this substance that determines the ability of
Pore Reductyl
to fight excess sebum, smoothing, tightening and moisturizing the skin.
Pore Redyctul
relieves skin inflammation and tightens pores, reducing pore size and the visible number of pores.
BioDTox
is
an antioxidant complex
, which is a combination of three plant ingredients:
citrus bioflavonoids
,
broccoli extract
and
aloe extract
.
BioDTox
facilitates removal of toxins from the upper layers of the skin, offsets the effects of free radicals, cleanses and tightens pores, reduces flaking and restores the skin's glow.
Epidermist
is a unique high-performance natural ingredient.
Epidermist
reduces pores and inhibits the growth of bacteria that cause inflammation and redness, reduces skin reactivity, boosts cell renewal, and makes the skin smoother and brighter.
Lumiskin
™
, a bleaching ingredient obtained from soapbark.
Lumiskin
™
helps achieve a significant whitening effect, drastically reducing synthesis of melanin in skin cells
Lumiskin
™
lightens and smooths the skin, increasing its glow.
Products line Ms. Perfection. Microdermabrasion Effect