MEZOcomplex 60+
Belita has expanded its MESOcomplex range, a worthy alternative to mesotherapy injections, with cosmetic products for age 60 and older. MESOcomplex 60+ products have a similar effect to a mesotherapy salon treatment while providing active care for mature skin.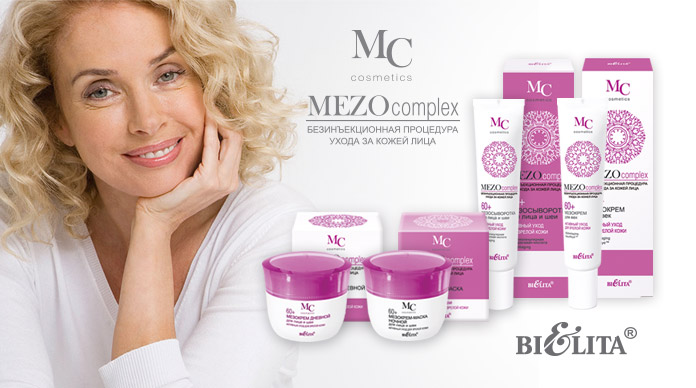 MESOcomplex 60+ cosmetics aim to:
- restore a sharp facial line,
- fight skin sagging,
- soften and smooth wrinkles,
- reduce age-related pigmentation,
- intensively moisturize and nourish,
- increase skin tightness and firmness.
MESOcomplex 60+ active ingredients:
X50Antiaging
, a smart peptide that accurately determines age-related skin changes:
- encourages renewal and rejuvenation of skin cells,
- efficiently smooths wrinkles,
- boosts collagen and elastin synthesis.
X50Antiaging
reduces wrinkles by 33%*
increases collagen synthesis by 137%*
increases elastin synthesis by 141%*
boosts skin nourishment by up to 100%**
increases skin moisture by up to 100%**
increases skin elasticity by up to 97**
soothes and softens skin by up to 93%**
* effect achieved after 28 days of daily use; efficacy attested by Infinites, Spain ** results of a volunteer survey by Infinitec, Spain
Targeted-action hyaluronic acid (Hyalusphere XP)
, a hyaluronic acid with a high molecular weight, encapsulated in spherulites using patented encapsulation technology, gives volume and firmness to your skin, providing a facelift effect, and rapidly, substantially smooths medium-sized wrinkles, with the first visible result appearing after one hour.
Low-molecular hyaluronic acid
Thanks to its low molecular weight, it easily penetrates the epidermis and dermis, affecting the skin from within, participating in restoration of the intercellular matrix, providing an instant lifting effect, and reducing the depth of wrinkles.
Proven effectiveness:
- increases skin firmness by 21%*
- reduces skin scaliness by 66%*
* effect achieved after 28 days of daily use; efficacy attested by Soliance, France
Lumiskin™
is a new antioxidant product obtained from soapbark, which provides visible results in suppressing production of melanin, a pigment that darkens skin.
Lumiskin™
evens out complexion, reduces age-related pigmentation, and gives your skin a natural glow and impeccable look.
Suitable for all-season whitening procedures.
Tens'Up™
provides a pronounced, visible lifting effect, and a lasting anti-aging action on skin through improved collagen synthesis.
Idealift™
, a high-activity patented complex for an ideal facial line, encourages elastin synthesis and helps to increase skin firmness and elasticity, reducing visible gravitation effects and providing control over skin sagging.
Vitamin E
, known as the "vitamin of youth", activates the synthesis of collagen and elastin, restores skin moisture, relieves dryness and flaking, reinforces the protective barrier, slows down skin aging, and prevents the damaging impact of UV radiation on skin cells.
Products line MEZOcomplex 60+