#LikeMe КРАСИВАЯ КОЖА
You liked the #LikeMe BEAUTIFUL SKIN line so much that we have created
A DELICIOUS AND HEALTHY BODY AND HAIR CARE!
This is a real crash!
#LikeMe MARSHMELLOW
DELICIOUS FLAVORS OF MARSHMALLOWS, MANGO AND COCONUT
will make every day unforgettable!
#LikeMe Crazy Cactus
THE AROMAS OF FLIGHTY CACTUS, WILD ALOE AND EXPLOSIVE LIME
immerse you in an atmosphere of mischief and carelessness!
What kind of care will you choose?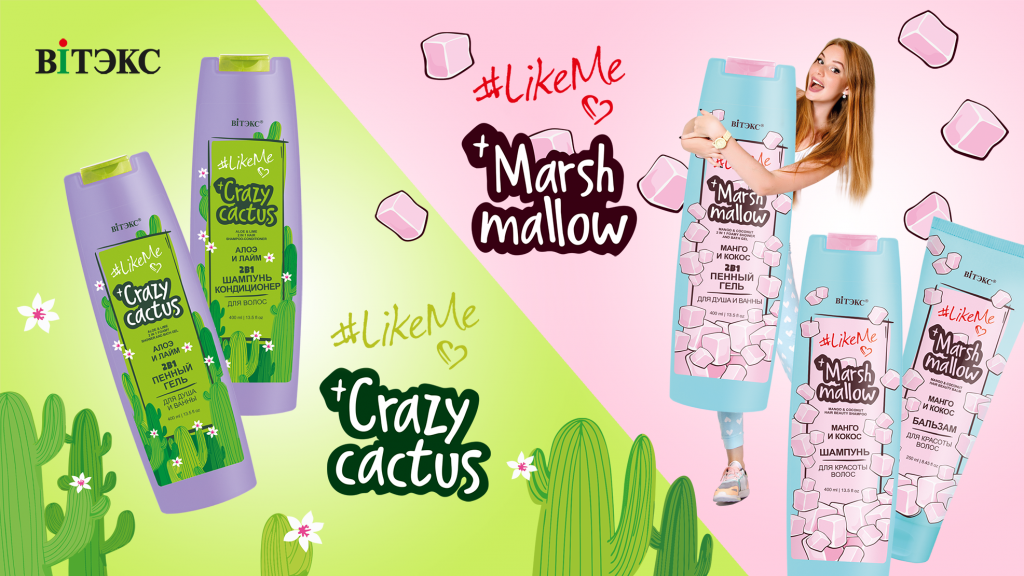 How nice to see in the mirror a beautiful, fresh, smooth, radiant skin! But, in order for the skin to be beautiful, it needs regular careful, competent care. Does it seem to you that proper skin care is long, boring and tedious? Cosmetics of the #LikeMe BEAUTIFUL SKIN line will turn personal care into a real holiday and take care of maintaining the perfection, radiance and freshness of your skin!
Active ingredients:
Kumquat - solar energy - nourishes the skin with vitamins and minerals, improving it and filling it with life force for vivid impressions and exciting adventures every day!
Kiwi - vitamin bomb - deeply nourishes the skin with substances indispensable for maintaining its resiliency, elasticity and attractiveness.
Natural peach and shea oils gently care about the nutrition of your skin, so that it remains gentle, soft and incredibly attractive.
UV filters perfectly protect the skin from the negative effects of solar radiation, protecting it from the appearance of premature wrinkles.
Perlamor iridescent pigments - sparkling micro rhinestones - give the skin a magical glow, hide imperfections and give your skin a perfect look both in life and in the photo.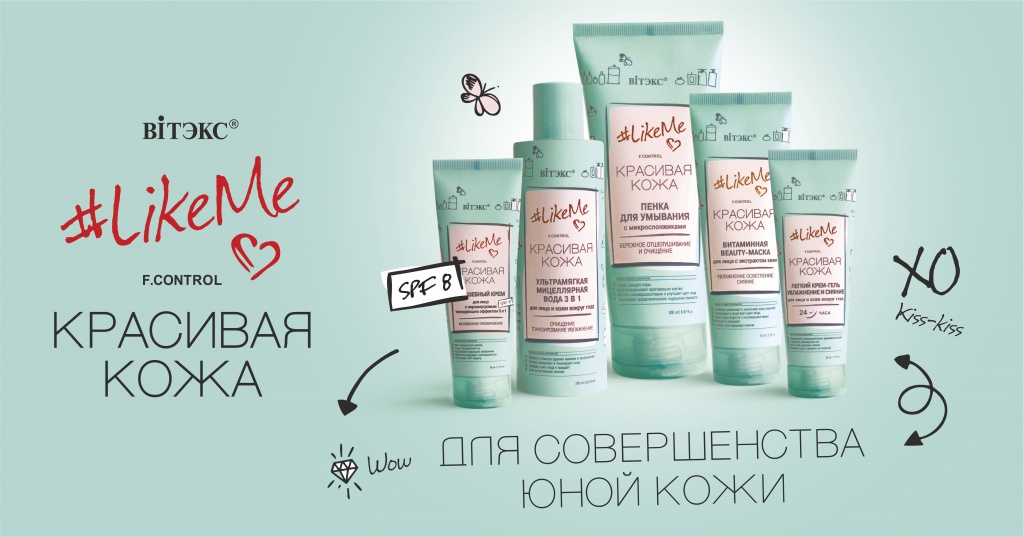 Products line #LikeMe КРАСИВАЯ КОЖА