HAPPY TIME HYDROGEL FACE MASKS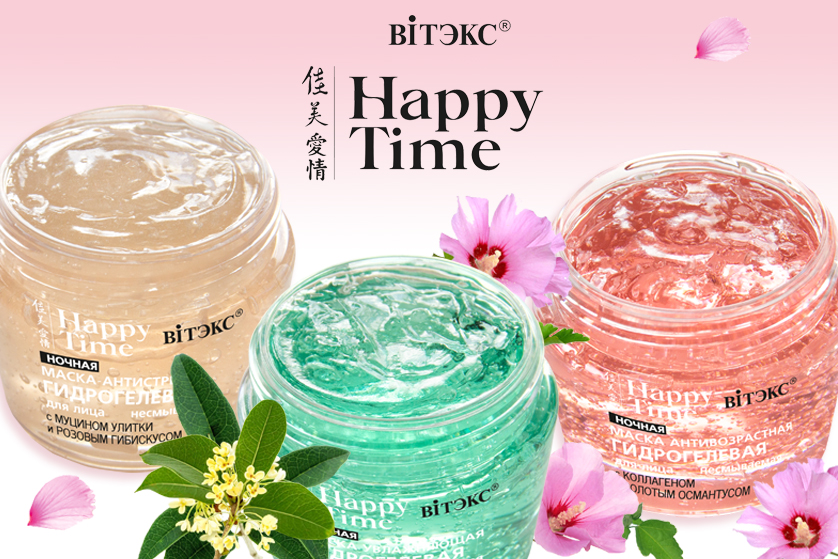 HAPPY TIME HYDROGEL FACE MASKS indelible
NIGHT MOISTURIZING MASK HYDROGEL Indelible for face

WHAT DOES THE HYDROGEL MASK DIFFER FROM THE USUAL ONE?
A hydrogel mask is, in fact, a cocktail of natural and high-tech components, immersed in a special gel. The light texture of the mask melts when distributed over the skin, is quickly absorbed and forms the thinnest coating, providing a gradual and continuous release of active ingredients throughout the night or all day.
WHAT NIGHT MASKS ARE BETTER AT?
Night is an ideal time to restore skin, because at this time the muscles are relaxed, metabolic processes are especially effective and the active components from the care products can be absorbed as fully as possible and have the necessary effect on the skin.
The advantage of VITEX hydrogel masks is QUALITY COMPONENTS and HIGH EFFICIENCY
VITEX night hydrogel masks are based on components whose effectiveness has been proven by numerous scientific studies - hyaluronic acid, collagen, snail mucin. These ingredients work in perfect synergy with rare plant components - emerald seaweed, golden osmanthus, pink hibiscus.
The basis of the morning hydrogel mask is cornflower blue water, enriched with mountain arnica distillate and high-tech natural complexes (Shadownyl, Instensyl, etc.).
FEATURES OF APPLICATION OF HYDROGEL MASKS
• Thoroughly cleanse the skin (for a deeper cleansing, you can use a scrub) - this way the active ingredients can penetrate deeper into the skin and have the most beneficial effect.
• Apply a night mask in a thin layer 30-40 minutes before bedtime.
• The morning mask should be applied after sleep to quickly remove swelling.
• Do not rinse off the mask.
• When the mask starts to work, you may feel a slight tightness of the skin, which disappears within 5-10 minutes.
• Use a mask 2-3 times a week instead of a night cream. A mask for the skin around the eyes can be used daily.
Products line HAPPY TIME HYDROGEL FACE MASKS