Гиалурон GOLD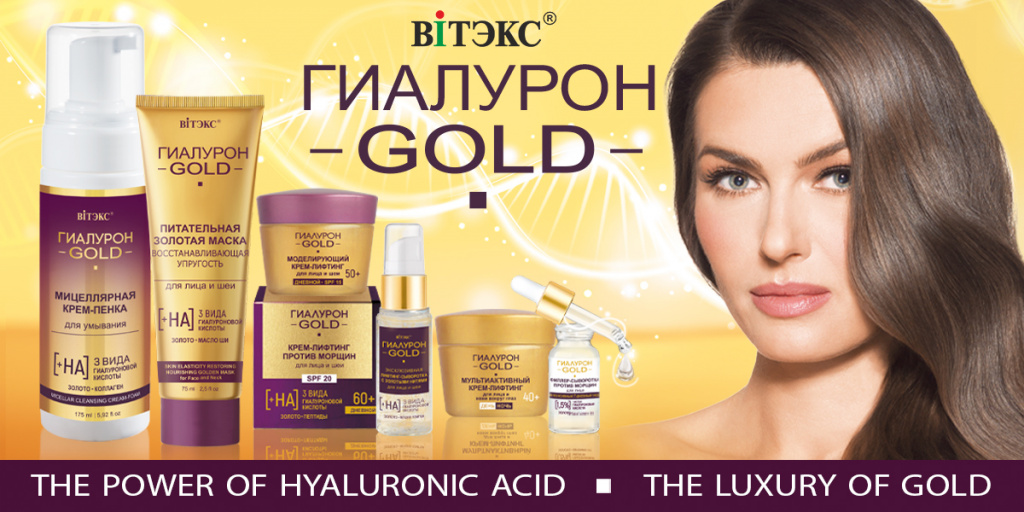 THE POWER OF HYALURON
GOLD LUXURY
3 TYPES
of HYALURONIC ACID
Hyaluronic acid is a natural component of the epidermis, due to which the skin retains moisture, elasticity, which means it looks young, firm and beautiful.
In the HYALURON GOLD line for the maximum result, 3 TYPES OF HYALURONIC ACID and BIOGOLD were combined.
1. High molecular weight hyaluronic acid moisturizes the skin in the upper layers, tightens, evens out its tone, gives a fresh, bright, radiant complexion.
2. Medium molecular hyaluronic acid penetrates into the middle layers of the skin, stimulates the production of its own hyaluronic acid, increases resilience, density and elasticity of the skin.
3. Low molecular weight hyaluronic acid effects in the deepest layers of the epidermis, filling the skin with moisture and "pushing" wrinkles from the inside, firming and tightening the contours of face, provides a potent and long-lasting lifting effect.
PROVEN EFFICIENCY OF HYALURON**
Increased synthesis of skin's own hyaluronic acid + 93%
Improvement of skin smoothness + 66%
Collagen synthesis stimulation + 21%
Biogold effects as a conductor, allowing hyaluronic acid and other active ingredients to penetrate the skin faster and deeper, significantly increasing their efficacy, enhancing the rejuvenation processes.
Each product of the line additionally includes potent components that work specifically to smooth out wrinkles, tighten the skin, eliminate pigmentation, smooth complexion and preserve a young, fresh-looking skin: collagen, peptides, microalgae, enzymes, AHA-acids, snail mucin, centella asiatica, silk acacia, provitamin B5, etc.
Products line Гиалурон GOLD