Fruit Therapy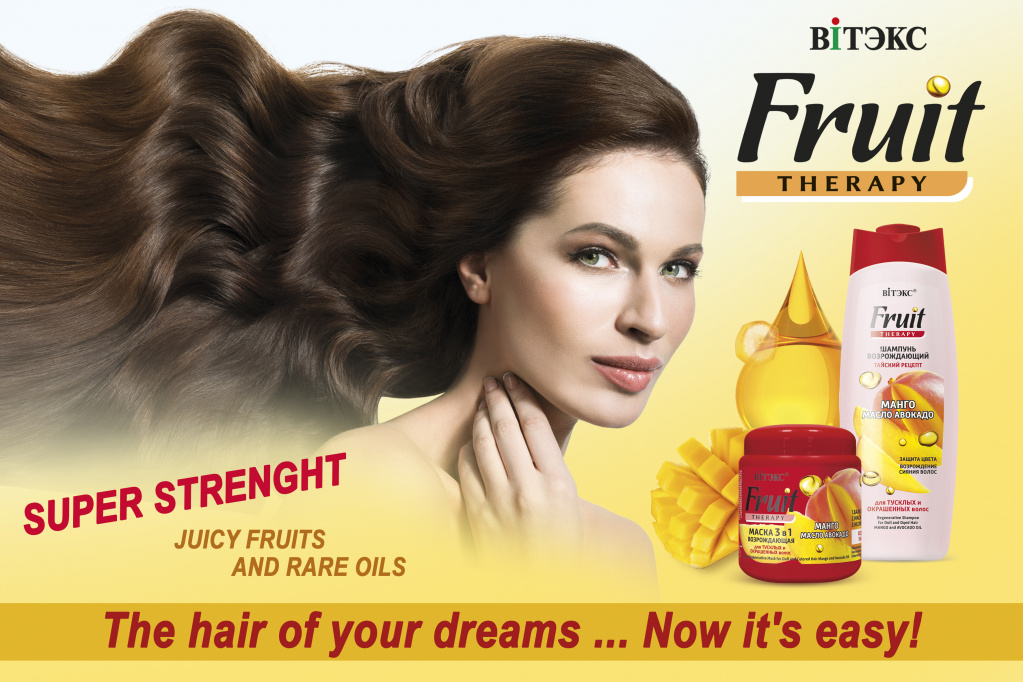 Beautiful, healthy, shiny, thick and magnificent hair has always been considered as pride and one of the main decorations of any beauty. In every country in the world, women had their own secrets so that hair would delight and fascinate with its splendor.
VITEX specialists for a long time collected and analyzed recipes that were used in different countries of the world to achieve perfect hair, explored the beneficial properties of rare natural oils and exotic fruits. As a result, we selected powerful active ingredients used in traditional recipes from Thailand, India and Brazil, which the developers of the scientific center skillfully combined in the special fruit formulas of the Fruit Therapy line.
The hair of your dreams ... Now it's easy!

MANGO has the strongest moisturizing and regenerating properties, effectively fights dryness and brittle hair, gives strength to tired and dull curls, gives a silky softness and healthy shine.
Reduces the negative effects of sunlight, enveloping each hair with a weightless protective film, helping to maintain the brightness and color saturation of dyed hair.
AVOCADO OIL saturates the hair along the entire length with the necessary nutritional components, penetrates deep into the hair cuticle, filling in bumps and smoothing scales. Prevents brittleness and split ends, facilitates combing, gives softness and obedience, gives hair luxurious smoothness and bright shimmering shine.

PAPAYA intensively nourishes and moisturizes the hair, smoothes the cuticle along the entire length of the hair, strengthens them from roots to tips, promotes growth, restores shine, thickness, density and strength to hair, damaged as a result of environmental factors or frequent use of curlers, tricks, irons etc.

AMLA OIL has excellent antioxidant, anti-aging and regenerative properties, helping to stop hair loss and prevent the appearance of early gray hair. It strengthens hair follicles, provides them with the necessary nutrition, solves the split ends problem, restores hair durability and strength, gives silky smoothness, softness and obedience.

BANANA deeply nourishes the hair along the entire length with valuable trace elements, strengthens and restores the hair structure, maintains a natural moisture level, prevents overdrying and split ends, makes hair more resistant to the negative effects of environmental factors, gives the curls the necessary density, elasticity and stable volume.

MURUMURU BUTTER fills hair with vitamins, minerals and other useful components without weighting, helps to quickly heal curls, prevent brittleness and hair loss. Strengthens the roots, gives the hair a lush air volume, eliminates fluffiness, makes the hair incredibly soft and obedient, returns a beautiful natural radiance.
Products line Fruit Therapy