FORCE NATURE with castor oil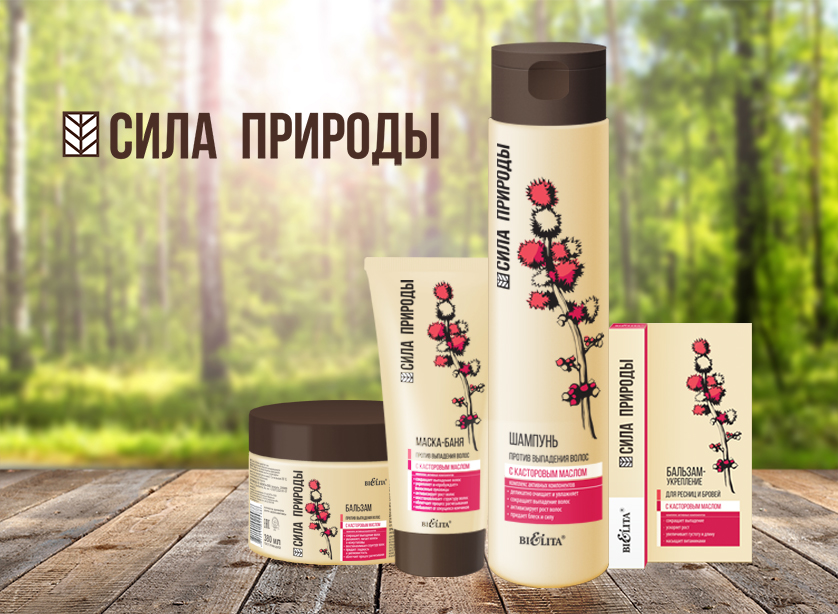 Having studied the composition and health properties of castor and linseed oils, the BELITA-VITEX research center created a new range of cosmetic products, POWER of NATURE:
Castor oil is a vegetable oil extracted from the fruit of the castorbean. It is a mixture of fatty acids (ricinoleic, linoleic and oleic) and vitamin E, giving the oil its health properties: to strengthen hair, prevent hair loss, nourish scalp and repair damaged hair structure.
Castor oil is well known as an indispensable eyelash and eyebrow care product. It accelerates hair growth, reduces hair loss, condenses and imbues hair with healthy substances.
Linseed oil has the highest biological value and the highest content of healthy substances among oils. Thanks to a high content of the omega-3 and omega-6 polyunsaturated fatty acids, and a complex of vitamins, linseed oil possesses miraculous properties: helps hair repair, nourishes and strengthens roots, and prevents the formation of brittle split ends, while making hair shiny, healthy and silky. Linseed oil provides excellent skin nourishment, hydration and softening, helping improve its condition.
Products line FORCE NATURE with castor oil