Exotic Paradise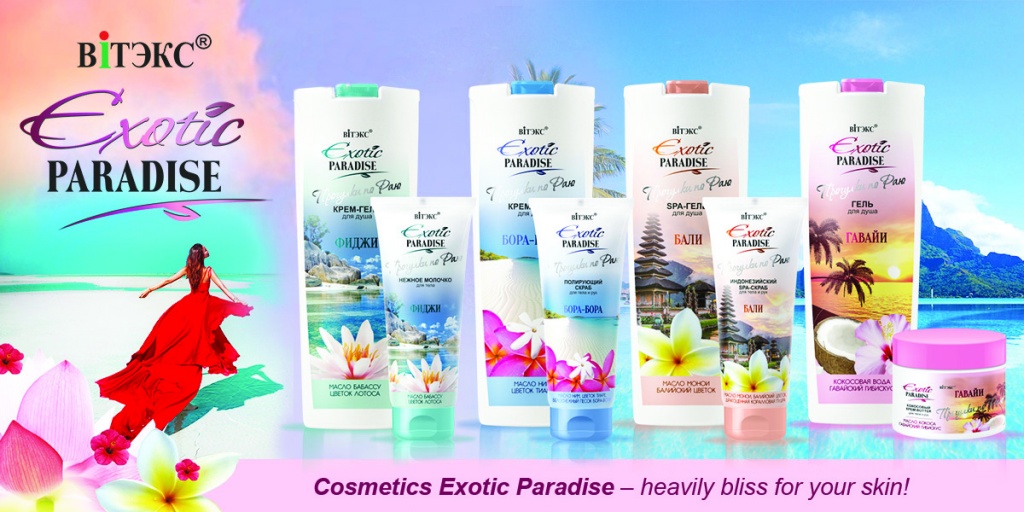 Each island is a unique ancient world, inexplicable, mysterious, fascinating. We took valuable oils, extracts of beautiful exotic flowers, added amazingly affectionate sea, warm tropical sun, a little bit of magic - and ... created a collection of means Exotic Paradise.
Now you can dive into the enchanting magic of Bora-Bora, Fiji, Bali and Hawaii every day.
Enjoy the wonderful fragrances of the Exotic Paradise collection and forget about the worldly vanity!
BALI- THE ISLAND OF BLISS AND DREAM
Magical components for appeasement:
Monoi oil is an ancient secret of beauty. Oil perfectly nourishes, softens and moisturizes skin, has a pronounced soothing effect and a light aroma. It suits ideally for the most delicate sensitive skin.
Bali flower is a flower of Gods and immortality, it is a powerful aphrodisiac. Exquisite magic fragrance evokes sensuality and restores mental composure.
Precious coral powder assists to strengthen capillaries, stimulates metabolic processes in skin cells and facilitates normalizing of blood flow. It activates skin rejuvenation, improves tone and elasticity.

Fiji- THE ISLAND OF PLEASURE
Magic components for pleasure:
Babassu oil perfectly nourishes, moisturizes and softens the skin. It has antioxidant properties, restores natural protective barrier and soothes the skin due to a high content of vitamin E.
Lotus flower extract has a biostimulating and rejuvenating effect, strengthens the skin turgor, making it elastic, resilient and surprisingly smooth.
HAWAII- ISLAND OF PASSION
Magical components for inspiration:
Coconut water provides intensive moisturizing of the skin, protects against dryness, gives the skin softness and velvety. Hawaiians call coconut water "dew from heaven".
Hawaiian hibiscus moisturizes, levels and smoothes the skin. Being a strong antioxidant, it prevents wilting and premature aging of the skin.

BORA-BORA- ISLAND OF LOVE
Magic components for sensuality:
Neem oil is the most valuable healing oil, effectively soothes, regenerates and moisturizes skin. Possessing antiseptic, anti-inflammatory and antibacterial properties, it increases the protective functions of skin.
Tiare flower is an exquisite snow-white flower with a unique delicate aroma. Extract of tiare flowers softens, nourishes and moisturizes skin, giving it a satin smoothness.
Snow-white sand Bora-Bora gently polishes skin, eliminates roughness, removes black dots and various contaminations. Cellular respiration of the skin is improved, the complexion becomes bright, fresh, unusually attractive.
Products line Exotic Paradise