#CleanSkin WITH SILVER for problem skin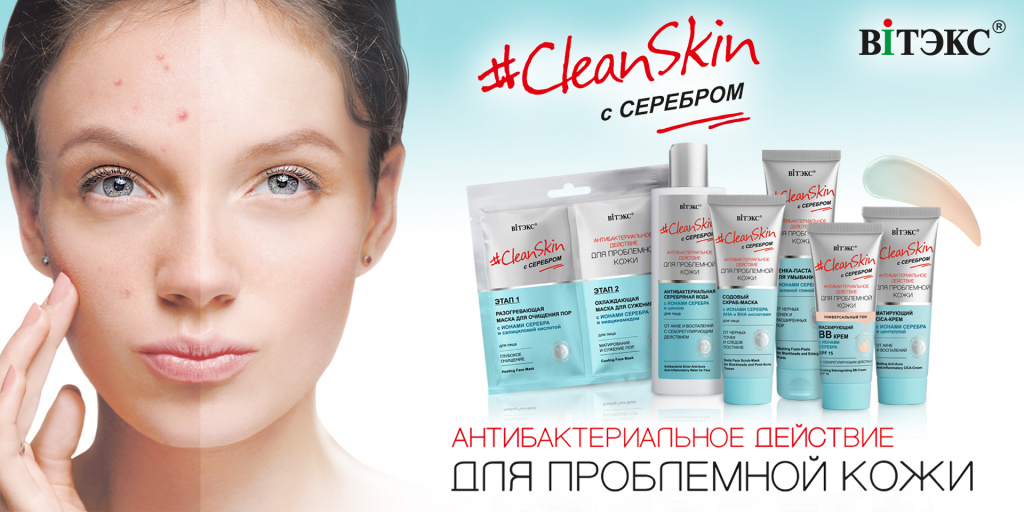 New #CleanSkin line contains one of the most effective antibacterial components - SILVER, the effectiveness of which has been known since ancient times.
Silver ions have an antibacterial and antiseptic effect, reduce inflammation and redness, and prevent the recurrence of inflammation.
Silver can destroy up to 650 different types of pathogens of all major types: bacteria, fungi and yeasts, viruses, protozoa. 95% of herpes virus strains are sensitive to silver. This ingredient has the ability to disinfect water.
#CleanSkin products with silver contain special ingredients with a proven antibacterial effect, help to normalize oily skin, soothe and prevent inflammation, get rid of acne, reduce acne and lighten post-acne marks.

BEAUTIFUL, HEALTHY, CLEAN SKIN WITHOUT PROBLEMS!
INTERESTING FACTS ABOUT SILVER: The ancient Egyptians applied silver plates to wounds to prevent inflammation and speed up the healing process. Slavic people put silver rings or spoons in a vessel with water to disinfect the water. For the same purpose, silver coins were often thrown to the bottom of the wells. Silver is extensively used in pharmacology today.
Products line #CleanSkin WITH SILVER for problem skin