SALT POLISHING TOOTHPASTE FLUORIDE-FREE with crystals of sea salt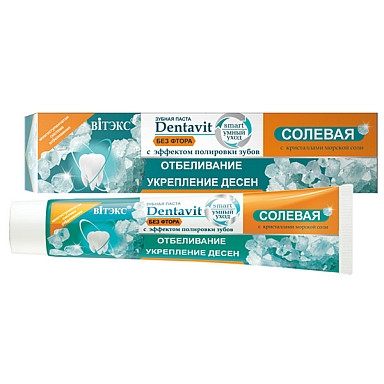 SAFE WHITENING GUMS STRENGTHENING
The complex of active smart components:
• provides a delicate polishing effect
• evens out color and provides smooth teeth
• prevents gingivitis and bleeding
Thanks to a cascade of highly effective natural ingredients, salt toothpaste forms a multi-stage system for safe whitening of enamel and at the same time provides comprehensive oral care, reducing inflammation and bleeding of the gums, protection from caries and prevention of dental tartar.
Active smart components:
Crystals of deep-sea salt strengthen and heal the gums.
Special natural whitening agent gently, carefully and very effectively polishes the teeth, improves the color of the enamel, leaves the teeth smooth and clean, gives a sparkling whiteness.
Calcium glycerophosphate acts like a filling, "sealing" enamel microcracks, as well as reduces the sensitivity of teeth.
Brend: Vitex
Volume: 85 g
Barcode: 4810153027788
Composition: Glycerin, Aqua (Water), Sodium Bicarbonate, Hydrated Silica, Sodium Lauroyl Sarcosinate, Sodium Chloride, Silica, Aroma (Flavor), Cellulose Gum, PVP, Sodium Hydroxide, Methylparaben, Zinc Citrate, Xanthan Gum, Maris Sal (Dead Sea Salt), Propylparaben, Limonene
Buy