CLEANSING ORAL FOAM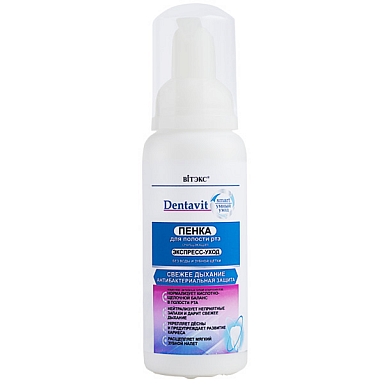 FRESH BREATH ANTIBACTERIAL PROTECTION
Thorough oral hygiene is a prerequisite for achieving and maintaining a healthy, beautiful smile. However, the use of a toothbrush and toothpaste is not always convenient, for example, in a cafe, at work, on trips.
The complex of active smart components
• normalizes acid-base balance in the mouth
• neutralizes unpleasant odors and gives fresh breath
• strengthens gums and prevents the development of caries
• splits soft plaque
Cleansing foam is a new "smart" product for quick and effective oral hygiene. It is ideal for cases where the use of traditional toothpaste and toothbrush is difficult (on the road, at work). Foam air bubbles penetrate into the most hard-to-reach areas of the oral cavity and effectively clean the teeth, interdental spaces and tongue from food debris and soft plaque, at the same time restore the healthy acid-base balance of microflora, strengthen gums, provide caries prevention and give freshness to the breath.
DIRECTIONS: squeeze 1-2 doses of the product into the oral cavity, rinse the mouth for 5-10 sec, spit. Do not swallow.
Brend: Vitex
Volume: 100 ml
Barcode: 4810153027825
Composition: Aqua (Water), Sorbitol, Poloxamer 407, PEG-40 Hydrogenated Castor Oil, Sodium Bicarbonate, Bambusa Vulgaris (Bamboo) Extract, Phenoxyethanol, Methylparaben, Ethylparaben, Propylparaben, Aroma (Flavor), PVP, Allantoin, Phenylpropanol, o-Cymen-5-ol, Decylene Glycol, Sodium Saccharin, Sodium Fluoride, Menthol, Menthyl Lactate, 2-Bromo-2-Nitropropane-1,3-Diol, Limonene
Buy