SERUM «Rejuvenation energy» for face, neck and decollete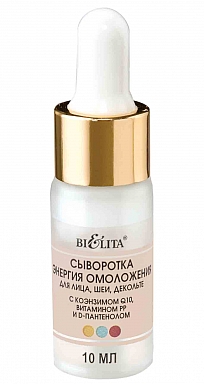 with coenzyme Q10, vitamin PP and D-panthenol

Active Serum with a high content of natural rejuvenating ingredients is designed to saturate the skin cells with energy. It helps firming the upper layers of skin, and has a wrinkle-smoothing effect.
Serum is ideal for age, atonic skin prone to wrinkles.

It does not contain fragrances.

Brend: Belita
Volume: 10 ml
Buy